Herbalife Q1 Revenue Up 18.9% To $1.5 Billion
May 5, 2021
By Team Business For Home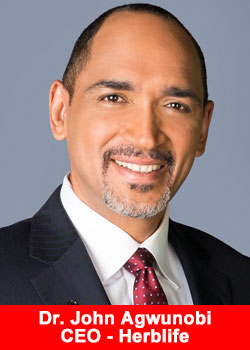 HIGHLIGHTS
First quarter 2021 net sales of $1.5 billion, an 18.9% increase compared to the first quarter 2020. Five of six geographic regions reported year-over-year net sales growth in the quarter.
March worldwide net sales set a single-month, net sales record.
First quarter 2021 reported diluted EPS of $1.33 and adjusted1 diluted EPS of $1.422, compared to $0.32 and $0.882, respectively, for the first quarter 2020. First quarter 2021 adjusted earnings per share increased 61.4% compared to the first quarter 2020.
Raising FY 2021 net sales guidance ranges to 9.0% to 15.0% growth, as well as raising FY 2021 reported and adjusted1 diluted EPS guidance ranges to $4.41 – $4.81 and $4.65 – $5.05, respectively.
MANAGEMENT COMMENTARY
The Company's double-digit net sales growth of 18.9% in the first quarter is a reflection of the long-established strategy and growth trajectory that started in 2018. The demand for Herbalife Nutrition products, combined with the determination and entrepreneurial spirit of the Company's independent distributors, resulted in first quarter net sales of $1.5 billion, which is a record for the Company.
"This quarter we delivered record first quarter results with net sales growth of 18.9%, as our distributors delivered valuable nutrition solutions to consumers around the world," said John Agwunobi, Chairman and CEO of Herbalife Nutrition.
The Company is seeing continued consumer interest in health and wellness products which is driving demand for its range of nutritional product offerings. The Company's global products and direct sales channel allow its independent distributors to support consumers as they reach their nutrition goals.
The fundamentals of the business are strong, evidenced by year-over-year growth and the record first quarter. Five of the Company's six regions experienced net sales growth with three of the six regions: North America, Asia Pacific and EMEA, growing by more than 20%. In particular, India set a new quarterly net sales record for the third quarter in a row, with year-over-year growth of 37%.
Additionally, the Company is seeing the first net sales benefit from currency since the fourth quarter 2017, as currency was a net sales tailwind of approximately 180 bps, excluding Venezuela.
Agwunobi added, "Due to the ongoing performance of our materially enlarged sales force and the increased awareness and consumer demand for our rapidly expanding product portfolio, we have meaningfully raised and narrowed our full year 2021 guidance. We believe in the long-term growth opportunity of our business."
Based on the continued increased growth in net sales, the Company's new guidance calls for net sales growth to be in a range of 9% to 15%, up from its prior range of 6% to 14%. Additionally, the midpoint of our reported and adjusted1 diluted EPS guidance range increased by approximately 7%.
The demand for the Company's full line of nutrition products and adaption of technology tools provided by the Company to its independent distributors contributed to double-digit growth in over 50 of the Company's markets. The Company's sports nutrition line continues to drive growth, with worldwide net sales in energy, sports, and fitness category increasing approximately 34% during the first quarter. Furthermore, the Company's targeted nutrition category, which includes health and wellness products, grew by 21% while the core weight management product category grew by 16% in the quarter. Moreover, consumer facing technology used by the Company's independent distributors to interact with their customers, particularly in cases where face-to-face interactions are unable to take place, was also a key factor in helping drive growth.
We are deeply grateful to our employees and distributors around the world who continue to deliver on our promise to customers every day, despite the ongoing pandemic.
To drive shareholder value, during the first quarter the Company executed an approximately $621 million in share repurchases. The Company has just under $1.5 billion remaining on our three-year $1.5 billion share repurchase authorization.
"We repurchased $621 million in shares in the first quarter. We will continue to keep a sharp focus on enhancing shareholder value and capital allocation as we look to deploy excess cash to the almost $1.5 billion remaining on our share repurchase program," said Alex Amezquita, Chief Financial Officer, Herbalife Nutrition.