Igarashi Susumu From Japan Achieves President Millionaire At VYVO
May 15, 2021
By Team Business For Home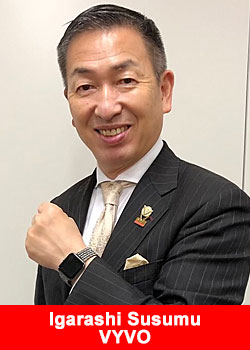 VYVO has always openly shared its ultimate goal, to create opportunities that make life worth living.
For every single one of their members, the main objective is centered around the idea of Making Life Wonderful. Through its Digital Health Platform, its technology, and its members' hard work, support, and enthusiasm, VYVO has kept on building success stories all around the globe. VYVO delights in sharing its members' continued achievements, and most recently, the remarkable results coming from Japan.
With their latest commission cycle, among the many exciting goals reached, Japan sees a new member rising to the rank of President Millionaire, Mr. Igarashi Susumu.
"I am pleased to announce that the latest President Millionaire was born in Japan. It is no exaggeration to say that the growth in Japan is unstoppable at this moment. We are certain the next President Millionaires will emerge soon, following Mr. Igarashi."
Shared Mr. Tadamasa Shimizu, General Manager of VYVO Japan.
"We are just experiencing the opening of a great development period in Japan! Our aim is always with the VYVO family all over the world, to achieve greater success."
The palpable energy surrounding VYVO's Digital Health Sharing Economy has ultimately brought a refreshing new opportunity that is appealing to younger and older generations, as the benefits are multi-faceted and concentrated on improving and uplifting lifestyles. It is through this platform that members are reaching ranks as Mr. Igarashi.
"I am so delighted that I achieved President Millionaire thanks to the support from so many of our members. Thank you so much indeed. As one of the initial members from the start-up period, I've been around everywhere in Japan, reflecting the voices of the field, and always eager to share our CEO, Mr. Fabio's vision and concepts with members. It's my honor to receive this title as a result of these activities."
Expressed Mr. Igarashi upon receiving his new rank.
VYVO's efforts to create a new standard in network marketing, and the ultimate VYVO Lifestyle, are empowered by the success of its members in reaching their own personal lifestyle goals. To gather more enjoyment from both the smaller and bigger things in life and go through life with better health, more joy, and financial security.
About VYVO
VYVO is on a mission that has created a lucrative home-based nutrition and tech opportunity empowering millions of people worldwide to maximize limitless online revenue focused on precision health, prosperity, and economic well-being. Members are continuously rewarded for wearing their VYVO LifeWatch while effortlessly contributing their biodata anonymously to a unique Global Health Fintech Platform, enabled by Life Sensing Technology™ and secured by Blockchain technology.
VYVO Inc. is an award-winning Silicon Valley-based technology company that creates sophisticated wearable technology and quality precision nutrition delivering an unrivaled direct selling opportunity; enabling everyone to join VYVO's Smart Generation and using their platform for the greater good of humanity.
Proven leaders in innovation with patented technology that protects, monitors, and empowers people who seek an overall enhanced lifestyle. VYVO's technology-driven mission has inspired the first self-funded Digital Health Sharing Economy where everyone can prosper. For more information, please visit VYVO.com and join VYVO's Facebook Community.