LifeVantage Welcomes General Counsel Alissa Neufeld To Their Executive Team
May 5, 2021
By Team Business For Home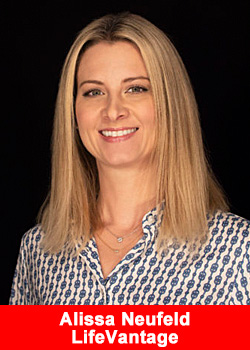 LifeVantage is pleased to announce that Alissa Neufeld has joined its executive team as General Counsel. Alissa joins LifeVantage after four years at the health and wellness company Nature's Sunshine.
Her legal career began with a state judicial clerkship at age 19 and then followed an exciting and winding path that started as a legal secretary, turned into a Ninth Circuit clerkship post law school, dived into mergers and acquisitions at a national law firm, and culminated with in-house counsel positions that ultimately led her to the pinnacle of her career now at LifeVantage.
Alissa could not help but feel thrilled to meet LifeVantage's CEO, Steve Fife, because she knew the company, with Steve at its helm, had something special to offer.
"When I met Steve, he was clearly brilliant, but what drew me to him was his positive energy and vision," she said. "I felt strongly that LifeVantage was on the precipice of doing something exciting, and I wanted to be a part of it."
Alissa noticed that LifeVantage was not only appealing to her, but was also attracting many other talented team members who were all functioning seamlessly together.
"A culture of positive and trusting teamwork is critical to a fulfilling work environment and a successful company."
Alissa noted that, for her, the people she works with are the most important component to her happiness in a job. As she started to meet the people at LifeVantage she realized her intuition about the culture and people was right.
"I'm only a few weeks in, and I know I was right about this company and this career move."
Alissa is also excited to be part of a company that values diversity and inclusion and noted the exceptional female senior management team members at LifeVantage.
"With the right skillset, there are no barriers at LifeVantage. I'm honored and excited to be part of a company that values talent and cultural fit, and this company has that in spades."
Alissa also referenced the family culture that helped shape her values. Her mother taught her that attitude is everything, which she believes positively impacts her personal and professional life. Her father instilled the simple, but poignant, value of being happy and making someone happy.
"I know numbers are the way we tend to measure success, and, of course, it is important that the numbers are there. However, for me, the truest win is when the people around you feel positive, engaged and happy about their work and their accomplishments. I feel that LifeVantage provides that culture, and I am incredibly thankful to be a part of it."
Beyond her work life, Alissa loves to spend time with her six-year-old twin boys and travel whenever she can. She also considers exercise an essential part of her self-care. "LifeVantage is a health and wellness company, and I love being a part of a company that believes, as I do, that we all deserve well-being."
"I believe LifeVantage is poised for take-off and I am excited for the ride," she adds. It is clear that with Alissa in a position of leadership, this company is well on its way.
About LifeVantage Corporation
LifeVantage Corporation (Nasdaq: LFVN) is a pioneer in Nutrigenomics, a new science dedicated to biohacking the human aging code. The Company engages in the identification, research, development and distribution of advanced nutraceutical dietary supplements and skin and hair care products, including its Protandim® product line, LifeVantage® Omega+ and ProBio dietary supplements, the TrueScience® line of Nrf2 infused skin care and hair care products, Petandim® for Dogs, Axio® smart energy drink mixes, and the PhysIQ™ weight management system.
LifeVantage was founded in 2003 and is headquartered in Salt Lake City, Utah. For more information, visit www.lifevantage.com.
Recommended Distributors LifeVantage