Matt Morris Achieves Red Diamond Rank At Seacret Direct
May 13, 2021
By Team Business For Home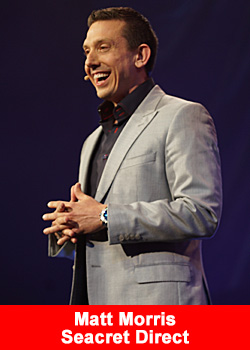 Attributes success to building confidence in your self and your team.
Matt Morris celebrates career growth and leadership opportunities through Seacret Direct. For him, reaching Red Diamond  rank is one of many milestones to come.
When Matt was introduced to Seacret Direct he was impressed by the product line and the compensation plan.  His decision to join Seacret comes from what he believes is its limitless potential. A meeting with Seacret Founder & CEO Izhak Ben Shabat finalized his decision.
"When I sat down with Izhak, I could feel his conviction, integrity, and passion for his company. I've never felt more secure than I do today because of his commitment to the field,"
Matt shares.
"When there's faith in the future, there's power in the present", stated Matt Morris
Izhak expresses his support of Matt
"Matt is a powerful addition to the Seacret family of servant leaders. I am impressed by his constant positivity. We can all learn from Matt."
Twenty-five years earlier, Matt found himself at the beginning of his direct selling career. Those days were filled with insecurity and challenge in personal focus. He recalls a life-changing epiphany.
"I finally made a decision to stop dipping my toe in the water and go all-in. After calling over 300 people, I overcame my fear of rejection. I was doing more presentations in a week than I used to do in a year! And after, I felt this incredible sense of pride… because I did EVERYTHING I could to achieve my dreams. The inspiration I needed was within me all along."
Since then, Matt enjoys a career of sales accolades: though what supercharges his personal motivation is to witness the milestones achieved by others.
I cry like a baby watching the leaders being awarded. In our first few weeks, the team has already produced great results."
These sentiments come from a time in his past when challenges resulted in doubt. "Even in the best of times, things can go bad very quickly," Matt remembers.
"But in that, there's opportunity. When it feels like there is no light at the end of the tunnel, that's when you have to work like the light is blinding you."
Matt continues to attract new customers and sponsor new Agents. His team continues to reach new milestones at a record pace. When asked about his why in making accelerated growth happen, Matt says it simply, "Three words. One hashtag. #BuildingADynasty."
ABOUT SEACRET DIRECT 
Seacret Direct is a service driven company. Launched with a direct-to-consumer model selling premium Dead Sea skincare products through kiosks, Seacret became the world leader in the space. From the lowest point on earth, with over 20 years of expertise and mastery, Seacret Minerals from the Dead Sea unlocks the potential of this legendary beauty spa that seduced Cleopatra and brings it directly to customers worldwide.
Founded in 2005, Seacret Direct develops, manufactures and sells premium nutrition and skincare products that combine Dead Sea minerals and other clean ingredients with new technologies and scientific breakthroughs. Exclusively manufactured in Israel, Seacret skincare products offer mineral combinations found only in the Dead Sea. Seacret nutrition products are plant centered formulas and supplements for every body. The Club Seacret membership program rounds out the proposition of the lifestyle company serving an ever-expanding community.
Seacret products were sold in many countries before the company adopted the direct selling business model in 2011. Since then, Seacret continues to be recognized on the DSN Global 100 list for its global impact of the industry on economic and social realms.
For more information, visit seacretdirect.com or clubseacret.com.
Recommended Distributors Seacret Direct