Navan Global CEO Trey Knight Indicted For Conspiracy To Commit Wire Fraud
May 27, 2021
By Team Business For Home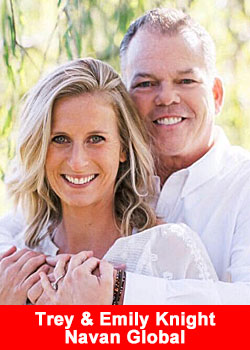 In  a press release the Tennessee Department of Justice in the USA stated:
Tennessee Couple Indicted for Conspiracy to Commit Wire Fraud and Wire Fraud
A federal grand jury recently returned an eight-count indictment charging Haskell Knight, a/k/a "Trey Knight," age 56, and Emily Knight, a/k/a "Emily Ricciardelli," a/k/a "Emily Fryer," age 37, both of Franklin, Tennessee, with conspiracy to commit wire fraud and wire fraud.
Each appeared for their arraignments and pled not guilty to the pending charges.
According to the indictment, beginning in March 2016, Haskell Knight and Emily Knight, a husband and wife who at the time lived in Texas and Florida, purported to start a new business. Haskell Knight raised investment funds while Emily Knight handled the bank account.  The business was called Udoxa, which allegedly was to market nutritional supplements.
The Knights raised $200,000 from four investors who contributed $50,000 each.  However, while Udoxa was formed on paper, it never conducted actual sales.  Haskell Knight solicited investments under false pretenses and then did little to follow through with starting the business.
Knight misrepresented the existence of a rich investor, available formation capital, and the strength of the startup, all to obtain funding, and then failed to use the funds in the agreed-upon manner.
Emily Knight accepted a total of $100,000 in wire transfers from two investors, one of whom lived in Baton Rouge. Those funds went in part to pay old business debts and personal expenses. $100,000 from the other two investors was not deposited into the Udoxa account and disappeared.
This matter is being investigated by the Federal Bureau of Investigation and is being prosecuted by Assistant United States Attorney Brian K. Frazier, who also serves as Chief of the Criminal Division.
NOTE: An indictment is an accusation by a grand jury.  The defendants are presumed innocent until and unless adjudicated guilty at trial or through a guilty plea.