Sandra Dias Alves From Portugal Achieves Regional Director Rank At Kannaway
May 21, 2021
By Team Business For Home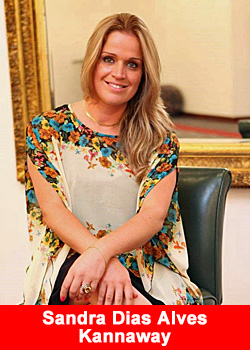 Kannaway® announced today that they are recognizing Sandra Dias Alves as their latest Entrepreneur to reach the company's Regional Director rank.
"We are so fortunate to have passionate and hard-working people like Sandra representing our company,"
said Kannaway® CEO Blake Schroeder.
"She is a shining example of the type of success we hope to see all of our Entrepreneurs achieve."
Sandra Dias Alves of Portugal is an internationally recognized direct selling expert with 12 years of experience in the network marketing field. She joined Kannaway® in March 2021 following European legislative changes that opened opportunities for CBD entrepreneurs, and attributes her quick ascent through the Company's ranks to good daily practices and her relationship-building skills.
"I said 'yes' to Kannaway® for its purpose, for the company's values and for the confidence I have in the leadership," Sandra Dias Alves said. "I love what we stand for, humanity."
Looking forward, Sandra is focused on helping her team members apply the daily habits that generate results with the hopes they will reach the rank of Area Director in Kannaway®.
Kannaway® is the first international cannabis company that specializes in the sales and marketing of hemp-based botanical products. The company envisions hemp in every home, and encourages its international team of Entrepreneurs to create their own successful distribution businesses that will drive positive change and support the health of the people around the globe.
About Kannaway® 
Kannaway® is a network sales and marketing company specializing in the sales and marketing of hemp-based botanical products. Kannaway® hosts regular sales meetings and conferences across the globe, offering unique insight and opportunity to sales professionals who are desirous of becoming successful leaders in the sale and marketing of hemp-based botanical products.