Tamura Yukiko From Japan Achieves President Millionaire Rank At VYVO
May 20, 2021
By Team Business For Home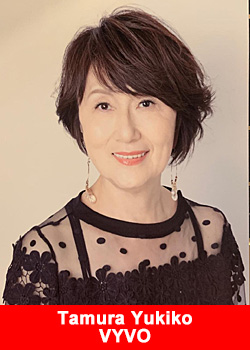 Continuing with VYVO's recent momentum with their innovative patented wearables creating precision nutrition, Japan seizes the opportunity to write yet another chapter of success, which means the world's first Digital Health Sharing Economy is growing with new members joining their Smart Generation Movement every minute.
Mrs. Tamura Yukiko has achieved the prestigious rank of President Millionaire through her constant focus and direction along with support from her up lines and other VYVO Family members, and she's not stopping there. Her hard work and her passion for the benefits of VYVO's Precision Health Platform and technology forged her determination and commitment to creating a more sustainable life for her and her loved ones. Adding to the countless anecdotes of success that VYVO is helping create, VYVO takes great pride in the ceaseless goals its members continue to blast through in Japan and worldwide.
Mr. Tadamasa Shimizu, VYVO Japan's General Manager, shared a comment from Mrs. Tamura, in her celebration, about her joy in her work with fellow members and the company at large.
"Fabio, Alessandro, and all management members, thank you very much for creating such a wonderful platform and system. This platform created by Fabio leads [me] to a healthier life, economy, and social contribution."
"My greatest wish is to make VYVO the world's number 1 company active in this space by cooperating as one team beyond borders. At the rate VYVO is going, they are on point with supporting Mrs. Tamura's goal, revolutionizing what it means to be a company dedicated to making life better for its members and the rest of the world.
The unparalleled results that VYVO is producing worldwide reverberate through many different life stories. The refreshing opportunities it brings for people of all generations, and all walks of life, making this an incredible journey that seeks to grant a new way of living, a healthier, happier, and more wonderful life.
Through the vision of CEO Mr. Fabio Galdi, the concepts, technology, and opportunities allow for a revolutionary space and the most unique offering in network marketing. Active development and growth in some of the most promising and empowering areas of lifestyle-based opportunities and technologies are why VYVO is dedicated and successful at Making LIfe Wonderful.
About VYVO
VYVO is on a mission that has created a lucrative home-based nutrition and tech opportunity empowering millions of people worldwide to maximize limitless online revenue focused on precision health, prosperity, and economic well-being. Members are continuously rewarded for wearing their VYVO LifeWatch while effortlessly contributing their biodata anonymously to a unique Global Health Fintech Platform, enabled by Life Sensing Technology™ and secured by Blockchain technology.
VYVO Inc. is an award-winning Silicon Valley-based technology company that creates sophisticated wearable technology and quality precision nutrition delivering an unrivaled direct selling opportunity; enabling everyone to join VYVO's Smart Generation and using their platform for the greater good of humanity.
Proven leaders in innovation with patented technology that protects, monitors, and empowers people who seek an overall enhanced lifestyle. VYVO's technology-driven mission has inspired the first self-funded Digital Health Sharing Economy where everyone can prosper. For more information, please visit VYVO.com and join VYVO's Facebook Community.