Top Leader Johnny Wimbrey From The USA Interviewed By Iulian Cimbala From Italy
May 14, 2021
By Team Business For Home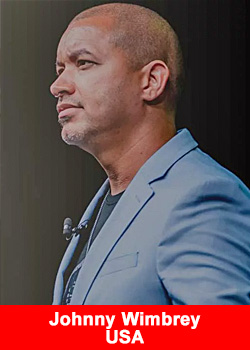 Johnny Wimbrey, from the USA, famous mantra is "Say Increase!" and can be heard on almost every continent around the world. When Johnny rolls up his sleeves and delivers straight-talk to audiences from Africa to Australia, India to Italy, Sweden to Spain, they respond with energetic enthusiasm.
His blunt honesty motivates people to stop thinking and start doing. A native Texan, Johnny and his wife and life-long companion Crystal, are blessed with three children and reside in a suburb of Dallas.
Johnny's incredible rags-to-riches story touches a chord in audiences from cultures from around the globe. He transformed his life from poverty and abandonment into wealth and opportunity. When he had nothing but dreams, he created a unique high-energy style that is as sought-after as an international currency.
As an internationally-acclaimed talk show host, #1 best-selling author, and motivational speaker, Johnny Wimbrey's charismatic nature inspires everyone from inner-city youth to corporate moguls and celebrities. His past is a fascinating one that he left behind to live to tell the story about it today.
—
Using the latest and most advanced technology and audio/video equipment available, we will bring you 3 days of the best of the best training anywhere available for an unparalleled price, broadcasted from an impressive TV studio in the Netherlands.
A ticket is just $35 for all 3 days!
Order your "special early bird priced" ticket here
Order your "special early bird priced" ticket here
About Business For Home Virtual Conference
The virtual conference is delivered to you in a completely generic format. No companies or products are ever mentioned, so you will feel safe to share this ultimate training event with your Team. Emerge from this new era as a true leader. Unveil the secrets of influential network marketeers from all over the work at our event.
And there is no better place to invest in yourself than the upcoming Business for Home Virtual Growth Conference, a three-day life changing experience that features renowned legends and rising stars.
Learn how to excel in your business and be empowered by successful leaders that will provide you with the necessary tools to become a better version of yourself. For tickets please click here, for the conference overview with 30+ speakers please click here.