Velovita Celebrates First Anniversary With Industry-First Announcements
May 6, 2021
By Team Business For Home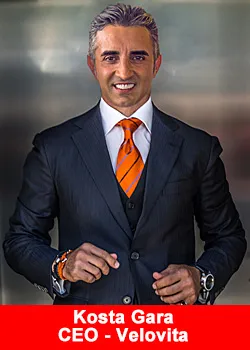 It has been quite an amazing year for Velovita. Founded by industry leaders Kosta Gara and Jeff Mack, Velovita has quickly become the go-to brand in social selling after entering the market on May 5th of 2020 with their flagship product brān.
Velovita's vision to create a hybrid company is being realized with rapid growth, and an impressive 3 to 1 Customer to Member ratio that is rarely seen in a company within their first year.
Featuring thousands of loyal Members in the United States, Canada, Japan, Mexico, Hungary, and more countries on the drawing board, Velovita is poised to take the next steps in expanding its global reach.
During their First Anniversary party, held via zoom on May 5, 2021, there was a celebration and Champagne toasts but also an array of new developments were rolled out making it very clear that Velovita plans to be an innovator for many years to come.
Here are just a few highlights:
New e-commerce functionality to their in-house developed mobile app called Velovita Vibe.
Velovita now accepts payment in Bitcoin as well as giving their members the option to have their rewards paid in Bitcoin, making them one of the first product-based companies in the world to embrace the digital economy.
New gamified dashboard that displays their in-house designed back-office solution (called V-Cloud), allowing members to better track their progress toward increasing their earning potential.
More details are being revealed at their upcoming September event called XLR8, where they will launch their third biohacking solution that is sure to be a life-changer.
With great momentum, great products, and great people on their side, Velovita is poised at the start of their second year to pick up where they finished their first; as a rapidly growing movement but more importantly, as a platform to help their community and those they touch by improving their performance mentally, physically, and financially.
About Velovita
Founded on 90+ years of operational and field success, Velovita has quickly become a global leader of innovation in the field of biohacking, social selling, community expansion, and support for the new world entrepreneur.
Their mission is to provide an ecosystem of inspiration, education, and life enrichment. Velovita has a singular focus on the individual to increase their daily performance both mentally and physically. For more information on Velovita, please visit Velovita.com or Velovita's Facebook page. You may also contact Velovita at [email protected]. It's a SNAP! We know you'll #LOVIT!
Recommended Distributors Velovita