Amplifei Appoints Kevin Thomas To Its HAPInss Brands Scientific Advisory Board.
June 10, 2021
By Team Business For Home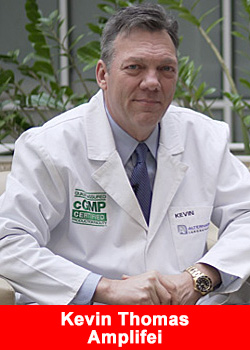 Amplifei™ Appoints World Renown Nutritional Science Formulator & Manufacturer Kevin Thomas To Its HAPInss Brands™ Scientific Advisory Board.
 HAPInss Brands™, one of the world's fastest-growing health and wellness companies announced the addition of Kevin Thomas to the HAPInss Brands™ Scientific Advisory Board. Alternative Labs, and HAPInss Brands™ have already formed a new product manufacturing alliance to collaborate on emerging trends and innovation for unparalleled Nutritional Science Systems.
"My personal journey with health and wellness products and our distribution model only happened after I met Kevin Thomas.

The incredible success we've experienced over the last 5 years is almost entirely attributed to his ability to create what I call "unicorn tears". Having Kevin join our scientific advisory board is just the next logical step,"
says Robert Oblon, Founder of HAPInss Brands and Amplifei™ International.
 "We look forward to showcasing the incredible state-of-the-art facility Kevin built in Southwest Florida, and the events we will have there during the course of this year and beyond."
"Joining forces once again with Robert and his team is beyond exciting.", says Thomas.
"The collaboration with this group of doctors and wellness experts in conjunction with our alternative thought process, we will be creating new nutritional science systems that are sure to exceed our VIP Resellers and their customer's expectations."
About AmpLIFEi™ and HAPInss Brands™ 
AmpLIFEi International™ is a health and wellness lifestyle company with exclusive marketing rights for HAPInss Brands' products serving freelance entrepreneurs. These two Companies combined give customers and its freelance entrepreneurs more options to improve their lives in a more complete way. For more information about AmpLIFEi™ please visit www.AmpLIFEi.com
HAPInss Brands™ is a Nutritional Science company providing people with the latest technological advances specific to amplifying the state of wellbeing, also known as happiness. For more information about HAPInss Brands™ please visit www.HAPInss.com .
About Alternative Labs LLC
Alternative Laboratories is a value-added private label contract manufacturer located in Southwest, Florida, specializing in the manufacturing and packaging of liquids, powders, tablets, capsules, cosmetics and other unique nutritional supplements and delivery systems. It's product formulation abilities and global raw material access provides its broad base of Direct Selling and retail brands and private label clients with unique "first to market" products and cutting-edge innovations. Its state-of-the-art facilities are proudly registered with the FDA, cGMP audited, Organic, and Kosher certified.