Gavin Teague Is Going Fast Through The Ranks Of Digital Profit
June 8, 2021
By Team Business For Home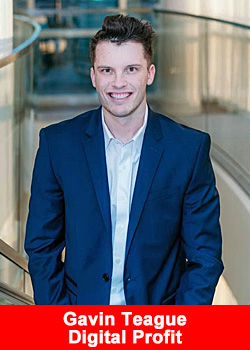 The trajectory for Gavin Teague has been nothing short of stratospheric. The North Carolina native only began his young career 6 years ago at the bright faced age of 19 and has been going from strength to strength.
Having seen incredible success at two other Network Marketing companies, Gavin is determined to hit the ground running once again.
"My experience so far has been great. Digital Profit is the 3rd company I have been a part of and by far has me the most excited because of the disruptive and revolutionary products. I have built a multi-million dollar a year team and now on track to do it again here."
He has big plans for his team and is hoping to inject his unique personality and vision of "impact any kind of person out there who is looking to enhance their quality of life" to once again strike gold. While many may attribute Gavin's success down to natural talent or just plain luck, he explains that those people are missing the big picture. Instead, he urges other young entrepreneurs who hope to emulate his success to follow these four simple tips:
#1- A long term vision
#2- Consistency and commitment
#3- Willingness to learn and be coachable
#4- GRIT
But what is perhaps most fascinating about Gavin is despite is youth, he already possesses a keen instinct for the industry and recognizes what makes Digital Profit such a unique opportunity: timing.
"It's not often you see something like this in the industry. A group of extremely intelligent individuals bringing to market technology this powerful. When you couple the integrity and legitimacy of the company with the state of the world we are in, it couldn't be better"
Gavin injects so much energy into his work and this combination of passion, disruption and betting on the future is what makes Digital Profit such a perfect partner for him. He particularly loves the Echo Broadcasting products and Digital Profit's superior AI.
"The overall opportunity and digital product offering goes far beyond what most people can imagine. I am excited and taking this entire digital ecosystem to the world!"
But it's not just the products that Gavin was drawn to, Digital Profit has a number of attractive perks that Gavin absolutely loves. Whether it's the unique travel program that allows him to indulge in his wanderlust or the dynamic and aggressive comp plan that ensures newer members can quickly get cash in their pockets; Digital Profit is truly to full package when it comes to the Network Marketing industry.
The future is looking incredibly bright for both Digital Profit and Gavin and his outlook for the business over the next 5 years shows why he decided to join the team.
"I see us as a household name. I believe that we will disrupt the industry and help more people win from all walks of life than a lot of companies have the ability to. I feel confident in saying that we will do at least a billion dollars in revenue over the next 5 years!"
About Digital Profit
Digital Profit is designed to give Brand Partners services to leverage their money and grow mass profits from their phone. With a wide range of digital products and opportunities in the largest financial markets in the world.
Echo Trading platform that services the Forex, Crypto, and Futures markets, as well as its one-of-a-kind multi-currency wallet. With all kinds of educational materials and tools to invest in building the future of the digital landscape, Digital Profit continues to help individuals take control of their finances by bringing cutting-edge technology to the average consumer.
Bridging the gap between emerging digital technology products and accessibility, Digital Profit provides a variety of innovative wealth-building products crafted for people seeking to enhance their lifestyles. Our revolutionary digital products provide cutting-edge methods of generating residual income. With products ranging from our multi-currency wallets, to broadcast signal trading, to discount travel portals, there is something for every entrepreneur to explore. For more information, please visit www.digitalprofit.io