Industry Veteran Bo Sundberg From Sweden Joins QuiAri
June 3, 2021
By Team Business For Home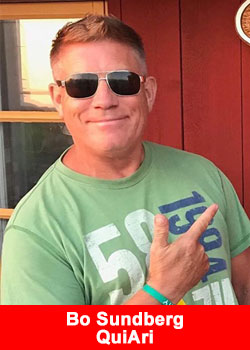 While many new MLM companies typically struggle to expand their business globally in their first year and a half in business, QuiAri continues to defy tradition. They have experienced rapid, unprecedented global growth in just months rather than years. The latest hotspot in QuiAri's rise to the top – Sweden.
Bo Sundberg from Stockholm, has never experienced anything like QuiAri in his 17 years in the direct selling industry.
"How did I know QuiAri was going to be the next big thing in the industry? My friends and industry legends and QuiAri Super Star Promoters Jim and Marci Fobair, who live in the Philippines, rushed to call me about some 'exciting news.'

They said I was going to love this new health and wellness company, and they were right! I was blown away by everything – the shakes, the energy tablets, and even the opportunity. I went all-in right away with QuiAri,"
said Bo Sundberg.
Bo has climbed the ranks quickly and is now a "Super Star" Promoter himself, one of QuiAri's highest ranks. He believes success in any industry comes from having the right mindset. Even before joining the MLM industry, he was a successful small business owner and semi-pro men and women's soccer coach.
"As in the game of soccer, there are winners and losers in network marketing. You can have the most talented players in the league on your team, but if they don't have the right mindset for success, you cannot win. Much like with network marketing, to get in the right mindset, you must have a strong support system.

QuiAri's Founder and CEO, Bob Reina gets it. He has given us everything we could possibly need to succeed – proprietary products, industry-first Same Day Pay, shipping to over 200 countries worldwide. You control your level of success at this company,"
stated Bo Sundberg.
QuiAri's industry-first Same Day Pay has been a blessing for many people around the world in need of extra income to pay off bills. After each sale, Promoters are paid in less than five minutes directly to their account or a QuiAri-branded Visa debit card.
"The sky is the limit at QuiAri, and you can start earning right away. Promoters have an opportunity to earn unlimited $500 USD Speed Bonuses for up to 6 months. That's on top of all other Bonuses – Rank Advancement, Lifestyle, Fast Starts – the QuiAri compensation plan is a game-changer. Nearly all of these Bonuses pay instantly. You just can't find that anywhere else. Not even professional athletes get paid that quickly," said Bo Sundberg. 
There's no doubt that QuiAri's Compensation Plan is impressive, however Bo points to the effectiveness of the products as the true life-changing benefit for both Promoters and Customers. He has lost 22+ pounds drinking his smooth, rich chocolate QuiAri Shake every morning and boosting his energy with QuiAri's powerful tablets.
"I look forward to my morning shake. It kind of feels like you're having dessert for breakfast. There is no gritty or chalky flavor, so there really is no other product on the market quite like it…and I couldn't have made it through the day without QuiAri Energy. They kept me going. Maqui, the world's new #1 superfruit, is the secret ingredient and nourishes your body with essential vitamins and minerals. Bob Reina, and the #1 Maqui scientist in the world, Dr. Juan Hancke, discovered a way to enhance the nutritional power of Maqui, and created an exclusive extract called MaquiX®. This exclusive extract boosts the natural antioxidant power of Maqui 10 times," said Bo Sundberg.
There have been countless testimonials proving that QuiAri products help you lose weight, feel great, and have more energy. Bo is seeing his business explode as he spreads the word about QuiAri throughout Sweden, as well as the rest of the world.
"People love the products and the opportunity. I'm passing out samples every day and getting amazing feedback. One of the benefits I love most about QuiAri is the accessibility to other countries. Since they ship to over 200 countries, I can connect with people from around the world and introduce them to QuiAri.  The marketing materials provided by Corporate are translated in 6 languages, so even if the Prospect I'm talking to doesn't speak a word of English, it's never an issue."
Bo is excited and very optimistic about his future at QuiAri. His personal mission is to achieve QuiAri's highest rank of Purple Diamond within the next 5 years.
"Being a former soccer coach, I am competitive and want to be the best. While being the first in the company to achieve Purple Diamond is a dream of mine, my barometer for success is the number of lives I've helped improve. At the end of the day, that's what everyone at QuiAri wants to do here at QuiAri."
About QuiAri
QuiAri is the #1 health and weight loss movement in the world today. Featuring exclusive, breakthrough products (QuiAri Shake and QuiAri Energy) featuring the world's new #1 superfruit, the Maqui berry, people everywhere are losing weight, boosting their energy levels, and improving their health. What started as an idea has now become a worldwide phenomenon, gaining a passionate following in over 200 countries.
But that's not all! We boast an exciting opportunity to promote QuiAri products and earn commissions within 5 minutes after each sale through industry-first, state-of-the-art payment technology. Combining unrivaled products with the fastest payout, the fastest cycling binary, and one of the highest paying compensation plans in the industry, there's no doubt QuiAri is helping people live healthier, happier lives. To learn more, please visit quiari.com.
These statements have not been evaluated by the Food and Drug Administration. These products are not intended to diagnose, treat, cure or prevent any disease.
Income Disclosure Statement
Please note the QuiAri business opportunity offers unlimited income potential. However, QuiAri makes no guarantee of financial success. Success with QuiAri results only from successful sales efforts, which require hard work, diligence, skill, persistence.
Recommended Distributors QuiAri