Top Leader Ashley Gertz Joins Digital Profit
June 11, 2021
By Team Business For Home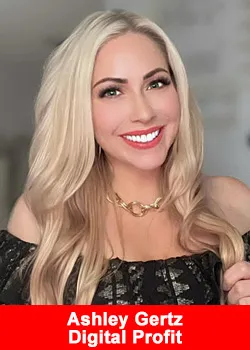 For Ashley Gertz, a curiosity for Forex has evolved into a million-dollar venture as a network marketer for Digital Profit. "There are so many people winning here!" Says Ashley on her commitment to the Digital Profit brand and her own. 
What started out 10 years ago, after the birth of her daughter, as a plan to supplement a life that allowed her family to go on the occasional trip, has grown into a career that changed not only her world but the world for so many others. 
Based in Annapolis, Maryland, and raised by parents who passed on a strong work ethic to her, Ashley used her new freedom to change the lives of those around her.
"The more I began to make the more I would give, and this is how I operate to this day," says Ashley, "My 'success' has been so much more than the income. Knowing I've helped 10s of thousands of people change their lives is more success than I could ever imagine."
What matters to Ashley is freedom. It's the answer to anyone who asks her why she continues to follow a career in network marketing. 
"Freedom of finances, freedom of time, freedom to do what I want, when I want to do it. Freedom to be home with my children, freedom to help others, freedom to give without expecting anything in return."
And, of course, the passive income has been a huge motivator to push herself to keep growing. "People love waking up to money that wasn't in their account when they went to sleep. They love being able to work, or shop, or travel, while their money works for them!" says Ashley noting the importance to keep learning no matter how successful you think you've become.
"I never stop learning, I learned from early on that you never want to be the biggest fish in the pond. To learn is to grow, and that is what network marketing is all about: growth."
Her advice for other entrepreneurs and those diving into network marketing is something we all can take value from, it's developing a "brand" that's your own so you can "present yourself and your business to individuals." There's a need then to use that as a way of "branding yourself as an individual that can provide a solution to someone's needs utilizing what your company offers," says Ashley. 
Ashley is excited about the upcoming Bitfx product to Digital Profit, which allows members to hold bitcoin and trade in the fx market, and all the opportunities it will open to everyone on the Digital Profit team at every level. "Crypto trading is the future!" says Ashley. 
"I feel like this will be something that people from all walks of life will be able to benefit from. I truly believe there is going to come a time when everyone in the world will know what a Bitcoin is, and what an amazing time that will be!"
Digital Profit is "in it for the long haul," says Ashley, adding that her vision is pretty simple; to continue to utilize the ease and simplicity of Digital Profit's platform in the future and to see her team continue to earn, learn, and help change lives.
About Digital Profit
Digital Profit is designed to give Brand Partners services to leverage their money and grow mass profits from their phone. With a wide range of digital products and opportunities in the largest financial markets in the world.
Echo Trading platform that services the Forex, Crypto, and Futures markets, as well as its one-of-a-kind multi-currency wallet. With all kinds of educational materials and tools to invest in building the future of the digital landscape, Digital Profit continues to help individuals take control of their finances by bringing cutting-edge technology to the average consumer.
Bridging the gap between emerging digital technology products and accessibility, Digital Profit provides a variety of innovative wealth-building products crafted for people seeking to enhance their lifestyles. Our revolutionary digital products provide cutting-edge methods of generating residual income. With products ranging from our multi-currency wallets, to broadcast signal trading, to discount travel portals, there is something for every entrepreneur to explore. For more information, please visit www.digitalprofit.io