Velovita Announces European Expansion
June 8, 2021
By Team Business For Home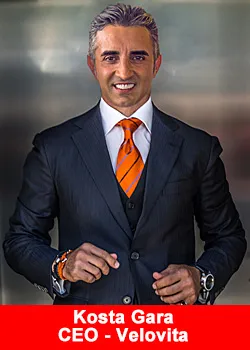 In their first year, Velovita envisioned themselves as an innovative company, bringing Social Selling into a new era. Based in Miami Florida, Velovita is a combination of business channels; think Direct Sales meets E-Commerce with a luxury brand and international feel. That "feel" has quickly become a reality as their vision continues to be more and more established.
During their most recent monthly zoom meeting, Velovita announced to Members that they now serve all 27 European Union countries, as well as the UK.
"When we started Velovita, our intent was to have a company that connected like-minded consumers and entrepreneurs from around the world.  In our first year we began that quest, but now we are ready to scale!"
Says Velovita CEO, Kosta Gara.
Indeed, Velovita is ready, and ready to do it their way. After launching on their own internal operating platform, they provided flawless operations to their Members and Customers using no outside operating vendors, a rare feat for such a young company.
Velovita also revolutionized the art of delivery, offering Members and Customers a $5 flat rate expedited shipping service, another industry first.
In addition to announcing their European expansion, their update zoom meeting also revealed that Velovita now accepts Bitcoin for payment and provides the option to collect earned commissions in Bitcoin; all solidifying their reputation as being fundamentally sound yet forward-thinking.
"From our innovative and super-effective products to our operational efficiency and our eye toward innovation, it's no wonder we have a culture of happy Members who are excelling on their entrepreneurial path with Velovita!

Now, we are excited to share this message and journey with those in Europe that are looking for a long-term home where they can build a bright and long-lasting future!"
says Velovita President, Jeff Mack.
About VELOVITA
Founded on 90+ years of operational and field success, VELOVITA is rapidly becoming a global leader of innovation in the field of biohacking, social selling, community expansion and support for the new world entrepreneur. Their mission is to provide an ecosystem of inspiration, education, and life enrichment. VELOVITA has a singular focus on the individual to increase their daily performance both mentally and physically.
For more information on VELOVITA, please visit Velovita.com or Velovita's Facebook page. You may also contact us at [email protected] To join the new movement, click here for the Velovita Member Rewards. We know you'll #LOVIT!
Recommended Distributors Velovita