Enhanzz Global Launches Swiss-Made CBD product
July 14, 2021
By Team Business For Home
The innovative Swiss network marketing company Enhanzz Global has launched their first CBD product under its renowned brand HANZZ+HEIDII called HEMPZZ, a super-high quality, non-intoxicating, organic CBD Full Spectrum Oil (4%) in flawless Swiss top quality.
All cannabinoids, terpenes, flavonoids, and nutrients are contained in their purest form. Additionally, organic astaxanthin is also included in the HANZZ+HEIDII HEMPZZ formulation, as well as organic flaxseed oil and the natural orange aroma, which creates a wonderfully smooth experience and delicious taste.
CEO Sven Goebel stated:
Our teams have once again done their homework very well. It took us many months to research the booming CBD market and learn about CBD and its massive potential.

At the same time, we held tight to our promise of utmost quality, experience, and uniqueness regarding all our HANZZ+HEIDII products. We did it with our Skincare, and we are doing it again with our green CBD product. Of course, we plan to extend the CBD line in the coming years – and we will diligently go all the way.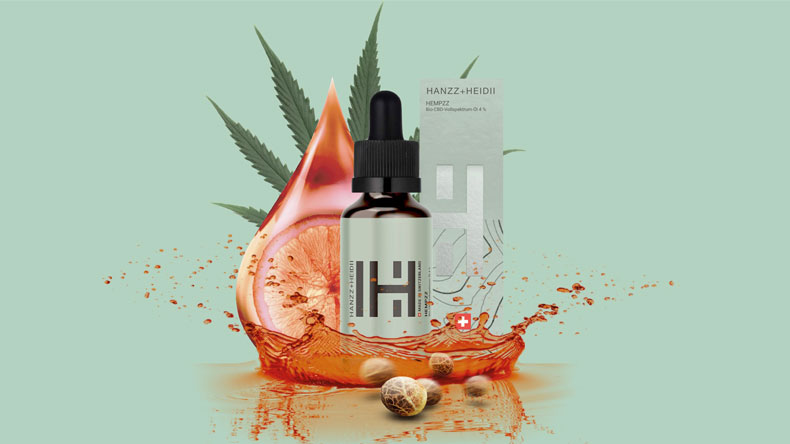 There is considerable interest and demand in the marketplace, and we will do our very best to serve this demand while going the extra mile in research and development.

We are overwhelmed by the initial reactions of our brand partners as honestly no one expected us to enter the CBD market.

The more they were blown away when we introduced the product at our exclusive leadership yachting event in Vitznau last weekend, which was the perfect setting for such a move. Already, due to its appearance and color, they call it "liquid gold".
About HANZZ+HEIDII
The exclusive HANZZ+HEIDII natural vegan skincare line for "HIM" and "HER", is a cutting edge, active symbiosis between nature and biotechnology, including its proprietary "Magic Swiss Code" formula, and its "Made Without" referring to its commitment that all products are non-animal tested and free of any harmful irritants and additives.
Currently, there are 9 products available for "HER" including a cleanser, serum and day/night cream; 4 for "HIM" also featuring a cleanser and serum  plus 1 unisex facial mask. For more information please visit www.hanzzandheidii.com,  www.enhanzz.com and www.woobyenhanzz.com