Lorena Gabor From Romania is Going Fast Through The Ranks Of NewAge
July 29, 2021
By Team Business For Home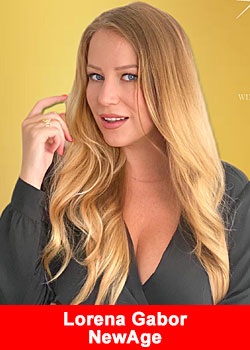 Lorena Gabor 29 years young, born in Romania, and living in France is going fast to the ranks.
Upon her achievement she stated:
I don't believe in "love at first sight." It takes time to learn and understand what "love" is all about.  This is also true with Network Marketing.  It took me two years to truly see what Network Marketing is about.
I was a successful business woman prior to Network Marketing, having several traditional businesses- a beauty salon, real estate agency, etc.
When I was introduced to Network Marketing, I didn't pay close attention because I didn't understand that it can bring me (and others) more than only money. I also didn't see that it was not only "equal opportunity" but that I could inspire, teach and train people to be, have and do even more than me.
What I lacked (at that time) was How do I do it?
To make a long story simple and short, I learned it because I traveled to an event in Italy and watched Tim Sales break down the exact basic activities he does to build his teams.
One thing that caught me by surprise (as a traditional business women) was that he showed how many people on his team earned more money than him – and he was so proud of it!
That day I decided Network Marketing would be my profession.
WINNERS INSPIRE NATIONS
It's been 2 years since I started from zero with New Age. Today our movement is in a dozen countries on three continents and me and some of my teammates are among the top income earners!  In fact, Tim Sales is who recommended me as a "Rising Star."
I truly believe that Network Marketing is the greatest opportunity for the majority of people to unleash their human potential with very little risk compared to tradition business.
I've never seen a business model with a better community where people can join, be embraced, taught and trained how to do each activity that delivers success – it's truly amazing.
Our team's mission is to help every person unleash their potential so that they can reach their dreams.
By training the basics we build winners, by building winners we inspire Nations.
About NewAge, Inc.
NewAge is a purpose-driven firm intending to become the world's leading social selling and distribution company. Colorado-based NewAge commercializes a portfolio of organic and healthy products worldwide through primarily a direct route-to-market system. The company competes in three major category platforms including health and wellness, inner and outer beauty, and nutrition and weight control — leading a network of more than 400,000 exclusive independent distributors and brand partners around the world.
The company operates the websites newage.com, noninewage.com, ariix.com, mavie.com, thelimucompany.com and zennoa.com websites.
Recommended Distributors NewAge