Melanie Aristidou & Efrosyni Adamides Achieve Blue Diamond Rank At Seacret Direct
July 2, 2021
By Team Business For Home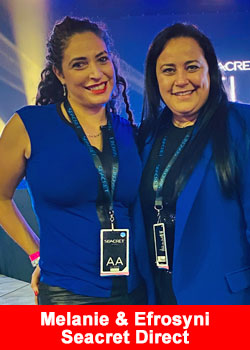 Seacret Direct® Announces Melanie Aristidou and Efrosyni Adamides Rank Advance to Blue Diamond Agents
Newest Seacret Direct Blue Diamonds, Melanie Aristidou and Efrosyni Adamides, have quickly fallen in love with the Seacret global community.
Melanie first came across Seacret when it was just a retail skincare brand in 2009. From 2011-2014 Melanie worked for some of the biggest global brands in skincare; Chanel, Armani, YSL, Kheils, Elizabeth Arden, to mention a few, and Seacret was always a brand that impressed her due to her experience using the products on her skin.
To her, there was just something that set Seacret apart from the other brands.
When she learned that a skincare brand she thought so highly of offered a work from home network marketing opportunity, it was super exciting.
Efrosyni had first experienced the products walking past a kiosk in Budapest and was so impressed that she gifted Melanie the Seacret Nail Set. However, her first deep exposure to the brand was November last year when considering the opportunities Seacret provided.
What spoke loudest to Efrosyni was the integrity, heart and sharp business skills of CEO Izhak Ben Shabat. While Izhak has his finger on the pulse of every aspect of his business, knows every detail inside and out, he also brings heart and soul to the table.
"When Izhak called us personally to congratulate us for hitting the rank of Blue Diamond, we fell deeply in love with the way he cares about his Agents.

We immediately decided to be the first Agents in Europe to meet him in person, so we flew 40 hours despite the challenges of the pandemic to the company's USA event, Elevate, to shake his hand,"
recalls Efrosyni.
Even now, Melanie and Efrosini know there are many more goals to achieve and they continually push to grow.
"We recognize we have done well so far but knowing there is still so much further to go keeps us grounded. For us, the key to staying successful is learning to be grateful for where you are but always staying in student mode to get to the next level,"
says Melanie.
About Seacrest Direct
Founded in 2005, Seacret Direct develops, manufactures and sells premium nutrition and skincare products that combine Dead Sea minerals and other clean ingredients with new technologies and scientific breakthroughs.
Exclusively manufactured in Israel, Seacret skincare products offer mineral combinations found only in the Dead Sea. Seacret nutrition products are plant centered formulas and supplements for every body. The Club Seacret membership program rounds out the proposition of the lifestyle company serving an ever-expanding community.
Seacret products were sold in many countries before the company adopted the direct selling business model in 2011. Since then, Seacret continues to be recognized on the DSN Global 100 list for its global impact of the industry on economic and social realms.
For more information, visit seacretdirect.com.
Recommended Distributors Seacret Direct