Rain International And The Iron Cowboy
July 27, 2021
By Team Business For Home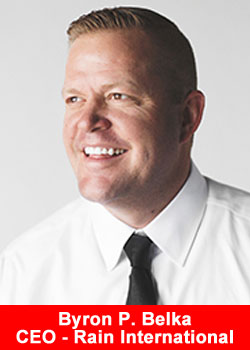 It's event season, again! It's been a long time since we've had the chance to attend concerts, parties, and other exciting events. But, as the world slowly normalizes, these different gatherings slowly ramp up along with it.
Rain International, for example, is getting ready for its Ascend Event. Before Covid, Rain utilized these events as a training ground that focused on motivation, elevated vision, and tactical education to help their Rain Partners look up towards the Summit.
This year, they're pulling out all the stops. In fact, they've just announced that they're bringing on the Iron Cowboy as one of their keynote speakers. Who is the Iron Cowboy? He's a Guinness World Record holder, who's run 50 Iron Men races in 50 different states over 50, consecutive days.
Since then, over the next five years, he rode his mountain bike to the top of Mount Kilimanjaro, ran 235 miles across Greece, competed in Xtreme Triathlons around the world, and raced the Xtri World Championship in Norway.
He also competed in the T.V. World Premiere of The World's Toughest Race – a ten-day adventure race through the back jungles of Fiji, and The Uberman, all leading up to his biggest project––Conquer One Hundred––racing 101 full-distance triathlons for 101 consecutive days. He's not only an inspiration, but a perfect personification of what Rain is trying to instill in their Rain Partners.
He's as dynamic a speaker as he is motivational machine, and Rain is fairly lucky to have him. Byron Belka, Rain's Founder, CEO, and visionary behind these Rain Ascend Events, is looking forward to not only having the Iron Cowboy at Ascend, but this year's Ascend Event as a whole:
"It's been way too long since we've had the chance to meet as a company (digital or in person). We want to make sure that this year is special for the small group who attends and the bigger group who tunes in online.

So, organizing a lineup of all-star, keynote speakers was extremely important to us. Getting the Iron Cowboy, first, was incredible. He's going to be able to provide a spark that I think everyone is ready for. We can't wait to see how the field responds to a speaker so dynamic, inspirational, and important."
 Rain's events have always served as important milestones for both their executive team, and their Rain Partners. From online events they've been hosting through Covid, to their multi-day events in Las Vegas, years ago, they've had the chance to inspire, motivate, and bind their Rain Partners to an even greater cause. One Rain Partner said:
"These events that Rain puts on are always the exact thing my team and I need. Sometimes it's training. Sometimes it's product info and scientific backing. But, it's always powerful. And it's always purposeful. I can't wait for this year's Ascend."
 To learn more about the Iron Cowboy, click on this link below: www.ironcowboy.com
To learn more about Rain's Ascend Event, happening September 10 & 11th, 2021, click here:
We look forward to seeing what Ascend does for Rain's Partners, as well as Rain as a whole.
About Rain International
Rain International is the original creator of seed-based nutrition. Our experts have gone to the source of plant nutrition to formulate products proven to support healthy lives. Rain International is more than the products we sell.
From the beginning, we set out to make changes to improve the world around us starting with the health industry and moving beyond its borders into global sustainability, education initiatives, elevated lifestyles, and more. We believe that the ultimate human experience we all crave is within everyone's reach, and we don't mind leading the way. For more info please visit www.rainintl.com.
Recommended Distributors Rain International