Seacret™ Direct Enlists Jürgen Pulvermüller as Vice President EMEA
July 7, 2021
By Team Business For Home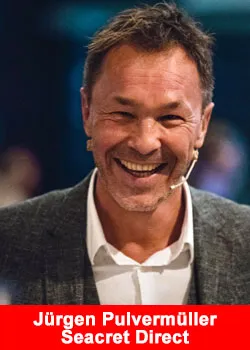 In another strategic move, Seacret Direct announces Jürgen Pulvermüller as Vice President for its Europe, Middle East, and Africa markets. For Jürgen:
"the entrepreneurial spirit has always been important. With Seacret, the products, the people, the tools are readily accessible for anyone who is an entrepreneur at heart. "
With decades of sales management experience, Jürgen understands both widescale needs and the important details for building success. Awareness of the big picture and the mechanics of creating growth comes from his academic background as Jürgen earned a Bachelor of Science for Engineering in Germany.
Jürgen applies this attention to detail within the sales matrix and carved a career path marked by achievements. His greatest sense of accomplishment remains in his ability to support others in their quest for success.
"There's nothing like witnessing a member of your team reach the potential you've seen in them all along. Then, when that light goes on in them and they see it, that's when their potential goes farther. It's fantastic!"
Jürgen says.
Jürgen has experience across multiple continents. Fluent in various languages, his ability to build the right teams and sales programs in many countries brings a continuity that is key to Seacret and its vision for company growth.
Seacret CEO and Founder Izhak Ben Shabat says
"Today, perhaps more than ever, change is our only constant. Jürgen adapts well to the unexpected–he thrives on it! We look forward to his work with the EMEA markets."
Jürgen has been instrumental in building sales organizations and creating infrastructure including IT and operations, recruiting and training corporate teams, business development, negotiations, and opening new markets (United States, Latin America, Europe, and Africa). Jürgen is an effective communicator and knowledgeable in the nuances of diverse cultural customs.
"Being comfortable with who you are and what you know is essential to your business. It's always the right time to learn more and apply it."
He says.
New technology, according to Jürgen, is driving the direct-selling industry. He believes that business practices must include the use of the latest innovations to remain competitive and lead. In addition, knowing when and how to react to consumer demand and shifting needs are what sets Seacret apart.
About Seacret Direct
Seacret Direct is a service driven company. Launched with a direct-to-consumer model selling premium Dead Sea skincare products through kiosks, Seacret became the world leader in the space. From the lowest point on earth, with over 20 years of expertise and mastery, Seacret Minerals from the Dead Sea unlocks the potential of this legendary beauty spa that seduced Cleopatra and brings it directly to customers worldwide.
Founded in 2005, Seacret Direct develops, manufactures and sells premium nutrition and skincare products that combine Dead Sea minerals and other clean ingredients with new technologies and scientific breakthroughs. Exclusively manufactured in Israel, Seacret skincare products offer mineral combinations found only in the Dead Sea. Seacret nutrition products are plant centered formulas and supplements for every body. The Club Seacret membership program rounds out the proposition of the lifestyle company serving an ever-expanding community.
Seacret products were sold in many countries before the company adopted the direct selling business model in 2011. Since then, Seacret continues to be recognized on the DSN Global 100 list for its global impact of the industry on economic and social realms.
For more information, visit seacretdirect.com or clubseacret.com
Recommended Distributors Seacret Direct