Top MLM Leader Robyn Woodbury Joins QuiAri
July 29, 2021
By Team Business For Home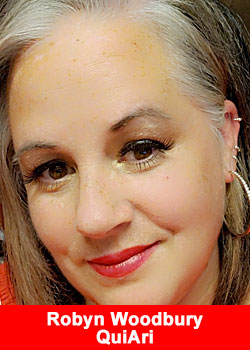 When you've been battling chronic illnesses for almost your entire life, there are two options: Give up or fight back. Robyn Woodbury, who is originally from Delta, Utah, USA chose the latter.
"I've dedicated my entire career to helping people feel better. I've found holistic products to help manage some of my conditions, but others aren't so lucky. At 16 years old I started working in home health. I was taking care of people with developmental disabilities, seniors, Alzheimer's, and hospice patients.

My goal was to become an RN (Registered Nurse). After receiving my CNA (Certified Nurse's Assistant) certificate, I discovered I couldn't go any further. Due to my illnesses, I couldn't perform the physical requirements of an RN.  Fortunately, Network Marketing gave me new hope,"
stated Robyn Woodbury.
Robyn joined a health and wellness Direct Sales company that offered products that she hoped would help her feel better. In just 6 years she achieved one of the company's top ranks, and it allowed her plenty of time to spend time with her children.
"I was put on this Earth to help people, and that's all I want to do. I recently joined QuiAri because their Founder and CEO, Bob Reina, and the executive leadership team were more aligned with my goals. We are both driven by kindness over profit. Also, the products are amazing and helping me in ways I never thought were possible."
 Like many QuiAri Promoters, Robyn's love for QuiAri began with a sample. She was introduced by her good friend and former mentor, QuiAri Promoter, Sabra McCraw.
"I was blown away after just 3 days on the products. I started to look and feel so much better right away. QuiAri Shake and Energy helped me lose over 13 pounds and significantly improved my energy levels.

Since I suffer from chronic fatigue, that was such a relief. I feel human again. My husband was so impressed with my results that he's now taking the products and also feeling better than ever. These products are a real game-changer,"
stated Robyn Woodbury.
The secret to Robyn's success is the star ingredient in all QuiAri products – the Maqui Berry, which is the world's new #1 superfruit. QuiAri was the first to introduce it to the global marketplace. QuiAri Founder and CEO, Bob Reina collaborated with the #1 Maqui Scientist in the world, Dr. Juan Hancke, to develop a special MaquiX® extract that boosts the extraordinary natural antioxidant power of Maqui 10 times. The result: Products that can help people lose weight, feel great, and have more energy.
"QuiAri products ship out to over 200 countries worldwide, so I now have an opportunity to help people around the world, not just in the United States. My business is growing like wildfire – faster than any other MLM I've ever been in – and I'm getting paid faster than ever.

QuiAri is the first company to offer Same Day Pay, that's commissions paid in 5 minutes or less. QuiAri has its own in-house I.T. team so everything operates in real-time: rank advancements, commissions, even most bonuses and incentives. My dream is to achieve the top rank of Purple Diamond. This would put me in the best possible position to help others financially," said Robyn Woodbury.
 Robyn would also like to set up her children for success in the future. She doesn't want to see them living paycheck to paycheck like she did most of her life. She would also like to be in a position to pay for college for her grandchildren and take that stress away from her children. QuiAri's rapid growth is helping her accomplish that goal. Many people on her team are climbing the ranks fast, and that's contributing to her success.
"The quality of QuiAri products is better than anything you'll find on the market, and they are changing people's lives. If your goal is to become financially free and achieve your dream lifestyle, this is, without a doubt, the best opportunity to make that happen.

I've already seen many success stories coming out of this company. I know because I'm one of them. I've only been with QuiAri for a few months and am already at a very high rank. I've finally found my forever MLM home. This is the happiest I've ever been in my life, and it's all thanks to QuiAri,"
said Robyn Woodbury.
About QuiAri
QuiAri is the #1 health and weight loss movement in the world today. Featuring exclusive, breakthrough products (QuiAri Shake and QuiAri Energy) featuring the world's new #1 superfruit, the Maqui berry, people everywhere are losing weight, boosting their energy levels, and improving their health. What started as an idea has now become a worldwide phenomenon, gaining a passionate following in over 200 countries.
But that's not all! We boast an exciting opportunity to promote QuiAri products and earn commissions within 5 minutes after each sale through industry-first, state-of-the-art payment technology. Combining unrivaled products with the fastest payout, the fastest cycling binary, and one of the highest paying compensation plans in the industry, there's no doubt QuiAri is helping people live healthier, happier lives. To learn more, please visit quiari.com.
These statements have not been evaluated by the Food and Drug Administration. These products are not intended to diagnose, treat, cure or prevent any disease.
Income Disclosure Statement
Please note the QuiAri business opportunity offers unlimited income potential. However, QuiAri makes no guarantee of financial success. Success with QuiAri results only from successful sales efforts, which require hard work, diligence, skill, persistence.
Recommended Distributors QuiAri