USANA Q2 Revenue Up 30,1% To $337 Million
July 29, 2021
By Team Business For Home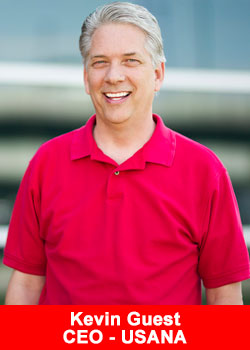 Key Financial & Operating Highlights
Second quarter net sales increased 30.1% year-over-year to a record $336.8 million.
Second quarter diluted EPS increased 41.7% year-over-year to $1.87.
Active Customers increased 8.8% year-over-year to a record 652,000.
Reiterates 2021 net sales and diluted EPS outlook.
"Strong consumer demand for our high-quality health products, coupled with the execution of our previously announced short-term sales program, contributed to our record net sales and customer numbers for the second quarter,"
said Kevin Guest, Chief Executive Officer and Chairman of the Board.
"Our-top line performance was driven by strong double-digit, year-over-year sales growth in each of our regions including a 16.5% increase in the Americas and Europe region and a 33.3% increase in the Asia Pacific region.
Mr. Guest added,
"We continue to execute our strategy to enhance the overall shopping experience for customers in all of our markets and made further progress on this initiative during the quarter. Additionally, the rollout of our Active Nutrition line, which was introduced in late March, is proceeding according to plan.

As we look ahead to the second half of the year, we are seeing a more challenging operating environment in several markets due to escalating conditions related to the COVID-19 pandemic.

We believe, however, that the successful execution of our strategy will deliver long-term sustainable growth."
About USANA
USANA develops and manufactures high-quality nutritional supplements, functional foods and personal care products that are sold directly to Associates and Preferred Customers throughout the United States, Canada, Australia, New Zealand, Hong Kong, China, Japan, Taiwan, South Korea, Singapore, Mexico, Malaysia, the Philippines, the Netherlands, the United Kingdom, Thailand, France, Belgium, Colombia, Indonesia, Germany, Spain, Romania, and Italy. More information on USANA can be found at www.usana.com.