Vyvo Wins Most Innovative Company Of The Year Award
July 1, 2021
By Team Business For Home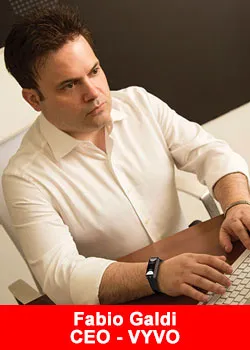 Vyvo Wins Most Innovative Company of the Year at the 13th Annual Golden Bridge Business Awards
Vyvo wins yet another Globee® Award at the 13th Annual Golden Bridge Business Awards. It represents another humble yet great honor that they have been able to reach with these milestones. It is through the inspiration and passion they receive from their Vyvo Family, and they are grateful to share that they have won a Gold Globee® Award as Most Innovative Company of the Year.
Their signature approach to marketing, and communicating the business and lifestyle of their unique Digital Health Sharing Economy, only confirms the greater success of their company and what it means for the future of their Members that benefit from building with a legacy company.
Innovative and successful patents don't just happen overnight. Through what they have tirelessly built together around their biohacking wearable LifeWatches and bringing the benefits of Digital Health as an accessible means to protect, improve, and safeguard our most important asset, our body, and livelihoods, they continue to receive recognition for uniting health with technology.
A wearable tech built on blockchain, a first in direct sales – they aren't just building innovative technology, they are building Humans 2.0 and giving rise to self-care and independent living and rewarding all that strive for a greater version of themselves!
Vyvo, making life wonderful!  Innovation at it's finest. Vyvo Inc. is recognized as: MOST INNOVATIVE COMPANY of the Year | 11 – 2,499 Employees GOLD GLOBEE® WINNERS.
About the 2021 Annual Golden Bridge Awards
The Globee® Awards organizer of the world's premier business awards programs and business ranking lists today announced the Grand, Gold, Silver, and Bronze winners in the 13th Annual 2021 Golden Bridge Awards®, honoring achievements and recognitions in business and innovations worldwide.
More than 85 judges from around the world representing a wide spectrum of industry experts participated in the judging process. The Golden Bridge Awards® are the world's premier business awards program honoring achievements in every industry around the world.
"The pandemic has changed the way people live, work, shop, and socialize," said San Madan, co-President of Globee Awards. "Businesses everywhere are now preparing for growth as signs of normalcy start to become visible." All organizations operating anywhere in the world – large to small and startups, government, public and private, for-profit and nonprofit are eligible to submit nominations to the Golden Bridge Awards in a wide range of categories honoring achievement in every aspect of business + work life.
About VYVO
Vyvo is on a mission that has created a lucrative home-based tech opportunity empowering millions of people worldwide to maximize online revenue focused on precision health, prosperity, and economic well-being.
Members are continuously rewarded for wearing their Vyvo LifeWatch while effortlessly contributing their biodata anonymously to a unique Global Health Fintech Platform, enabled by patented Life Sensing Technology™ and secured by blockchain technology.
Vyvo is a Silicon Valley-based technology company that creates sophisticated wearable technology – proven leaders in innovation with devices that protects, monitors, and empowers people who seek an overall enhanced lifestyle. Vyvo's technology-driven mission has inspired the first self-funded Digital Health Sharing Economy where everyone can prosper. For more information, please visit Vyvo.com and join Vyvo's Facebook Community.