Bernd Rudi Uricher From Germany Achieves Diamond Rank At Success Factory
August 19, 2021
By Team Business For Home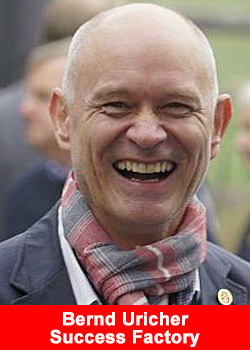 Bernd Rudi Uricher has only recently joined Success Factory, and just a few months later he is already receiving the Diamond rank.
Bernd initiated himself in the network marketing industry in 2015 on a part-time basis. He admits that he enjoyed it quite a lot, however, he was not looking for anything different when he came across the opportunity of Success Factory.
In April 2021, Double Blue Diamond Peter Gurschler introduced Bernd Uricher to Success Factory, explaining the vision and the mission of the company. Bernd joined straight away and got immediately impressed by the concept and the great vision of the virtual reality platform, The View.
Only three months later, Bernd is already able to boast the Diamond rank:
"Digital wealth products simply make a lot of sense to me, so I didn't have any doubt and got started. I now got to the Diamond rank thanks to hard work of my team partners and the direct leadership of my friend and upline Peter. 

What really drives me in this profession is to bring people together and to help them come into their power, to overcome their limits, to live self-determinedly and in financial freedom. It's always people who are at the centre of my mission."
Bernd admits that for him, network marketing is not only a job, a way to earn money, but an opportunity to work with the right leadership and perfect method to develop personally on many levels, to boost his potential more and more every time:
"It is always a wonderful feeling to push beyond your limits, where are you may be a top performer in a small world. You need to push yourself into a bigger world and challenge yourself to growth.

That's where I find so much joy and fun, especially when I do it together with "my family" and celebrate the achievements.My biggest challenge is to stay clear in my mind. I do that through a daily routine, always challenging team members to not reinvent the wheel."
Bernd keeps speaking passionately about network marketing and would like to recommend this business to anyone who's looking for a great opportunity in their lives:
"Network marketing is a chance to grow as a human, to be a part of the great community and work together. If you keep an open mind for new things, there is a possibility to meet people around the world and to have a life without limitations."
Bernd tells us that doing network marketing, he understood that he needed to play bigger, learn new skills, stay humble and rebuild and push himself. He stays motivated by maintaining his credibility and never wants others to think he can't do it. And Bernd never stays still: he loves to change, stay in motion, drive his emotion and create momentum.
About Success Factory
Success Factory is a network marketing company whose main goal is the promotion of human potential and supporting latest technology, relying on innovative and creative proposals that bring real solutions to the lifestyle in the 21st century.
The product catalogue of the company is mainly digital, covering the spheres of technology, education, sales skills and financial expertise. All that always improving quality, usability and exceptionality and offering its sales force different products to work with. The most outstanding items within the extensive ecosystem of the company are Forex Insiders, the View, B.A.N.K., Dagcoin, and Dagpay.
Success Factory has come to be the company that transforms network marketing, being, above all, a company that detects, trains and empowers the sales professionals that will be the great legends of the industry tomorrow. Find more information on the company's website www.successfactory.com.