ByDzyne Collaborates With Kardashian-Jenner Dermatologist Dr. Simon Ourian
August 13, 2021
By Team Business For Home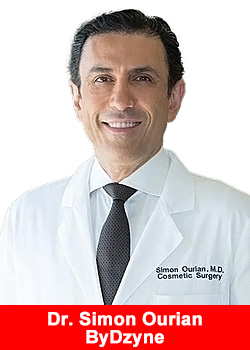 In a monumental new venture of seismic proportions, ByDzyne is collaborating with iconic celebrity dermatologist Dr. Simon Ourian, one of the nation's most sought-after cosmetic surgeons, and is launching quite arguably the most anticipated skincare product to hit the direct sales market in Epione Flawless Serum.
Dr. Ourian, the founder of revered cosmetic clinic Epione Beverly Hills over 20 years ago, has become one of the world's leading authorities in the field of cosmetic dermatology and has clients that include some of Hollywood's highest-profile stars, such as the Kardashian-Jenner family, Lady Gaga, Salma Hayek, Adriana Lima, and Miley Cyrus to name a few. The surgeon has been featured on ABC, NBC, CBS, Fox News, the LA Times, and USA Today, which has also helped garner him an astounding 3.5 million followers on Instagram.
As a company rooted in ever-evolving innovation, ByDzyne's leadership team knew teaming up with Dr. Ourian and providing their Brand Ambassadors with one of the world's first-class skincare solutions would be a tremendous milestone in the company's brief history.
"Today is a historic day to be teaming up with Dr. Simon Ourian and bringing the revolutionary Epione Flawless Serum to all of BD Nation. Dr. Ourian is the leading face in cosmetic dermatology and this product is the holy grail of skincare for celebrities. ByDzyne is ecstatic for this five-star collaboration and every single one of you at home need this product,"
conveyed an enthusiastic Nattida Chong, co-founder of ByDzyne.
Dr. Ourian's lifelong mission of highlighting people's natural beauty to help them feel healthy, attractive, and confident, has culminated in this state-of-the-art serum, Epione Flawless Serum, which is designed to help strengthen the skin by reducing the appearance of spots and wrinkles and simultaneously tightening and firming while providing the skin's surface with a protective and nourishing barrier.
The serum, also formulated to replenish skin that has become imbalanced due to harmful sun and pollutant exposure, will also help retain water and moisture in the corneous layer of the skin making it appear plumper and more radiant. Some of the world's biggest celebrities, including Gwyneth Paltrow, Chrissy Teigen, and several Victoria's Secret models have shared on social media that the serum is an integral part of their daily skincare routine.
"The first product that I wanted to introduce to ByDzyne was Flawless because it is our hero product. It is the product that has become synonymous with Epione's name because it has three very basic ingredients that are very natural, penetrate the skin very rapidly, and traps the water inside so you have 10 times more moisture inside your body than if you didn't use it,"
shared Dr. Ourian.
The three ingredients referred to are cyclopentasiloxane, cyclotetrasiloxane, and dimethiconol, which combined create a natural, oil-based mixture that feels silky, velvety, and balanced. The product was also created with internal health and environmental responsibility in mind by being fragrant, sulfate, and animal-cruelty-free, a non-GMO product, and vegan.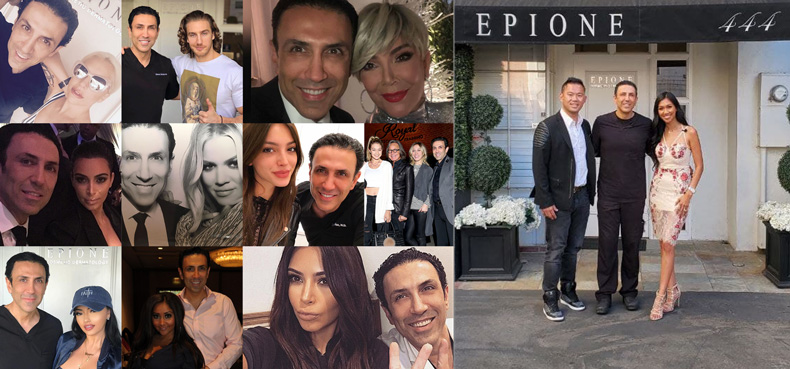 While ByDzyne's global market revenue is sure to skyrocket, Dr. Ourian also shared enthusiasm for the collaboration and playing a part in ByDzyne's vision of changing lives and developing a culture where limitations don't exist
"I am a big fan of network marketing. All of this is really a privilege and I am looking forward to teaming up with everyone on the team because everyone that I have met so far is sincere, enthusiastic, and really everyone's here to not just build a business but also have a foundation of a really healthy wonderful lifestyle that we want to promote and we want all of us to have for ourselves and those around us,"
declared ByDzyne's new affiliate.
To learn more about the product please go to: www.bydzyne.com/epione
ByDzyne colabora con el dermatólogo de las Kardashian-Jenner, el Dr. Simon Ourian
En una nueva y monumental aventura de proporciones sísmicas, ByDzyne colabora con el icónico dermatólogo de las celebridades, el Dr. Simon Ourian, uno de los cirujanos cosméticos más solicitados del país, y lanza el que posiblemente sea el producto de cuidado para la piel más esperado que llegue al mercado de venta directa, el suero Epione Flawless.
El Dr. Ourian, fundador de la venerada clínica cosmética Epione Beverly Hills hace más de 20 años, se ha convertido en una de las principales autoridades mundiales en el campo de la dermatología cosmética y cuenta con clientes que incluyen algunas de las estrellas de más alto perfil de Hollywood, como la familia Kardashian-Jenner, Lady Gaga, Salma Hayek, Adriana Lima y Miley Cyrus, por nombrar algunas. El cirujano ha aparecido en ABC, NBC, CBS, Fox News, LA Times y USA Today, lo que también le ha ayudado a conseguir la asombrosa cifra de 3,5 millones de seguidores en Instagram.
Como empresa arraigada en la innovación en constante evolución, el equipo directivo de ByDzyne sabía que asociarse con el Dr. Ourian y proporcionar a sus embajadores de marca una de las soluciones de cuidado para la piel de primera clase del mundo sería un tremendo hito en la breve historia de la empresa.
"Hoy es un día histórico para asociarnos con el Dr. Simon Ourian y llevar el revolucionario Epione Flawless Serum a toda la nación BD. El Dr. Ourian es la cara principal de la dermatología cosmética y este producto es el santo grial del cuidado de la piel para las celebridades. ByDzyne está entusiasmada con esta colaboración de cinco estrellas y todos y cada uno de ustedes en casa necesitan este producto",
transmitió una entusiasta Nattida Chong, cofundadora de ByDzyne.
La misión de toda la vida del Dr. Ourian de resaltar la belleza natural de las personas para ayudarlas a sentirse sanas, atractivas y seguras de sí mismas, ha culminado en este suero de última generación, Epione Flawless Serum, que está diseñado para ayudar a fortalecer la piel reduciendo la aparición de manchas y arrugas y, al mismo tiempo, tensando y reafirmando mientras proporciona a la superficie de la piel una barrera protectora y nutritiva.
El sérum, también formulado para reponer la piel que se ha desequilibrado debido a la exposición dañina al sol y a los contaminantes, también ayudará a retener el agua y la humedad en la capa córnea de la piel haciéndola parecer más rellena y radiante. Algunas de las mayores celebridades del mundo, como Gwyneth Paltrow, Chrissy Teigen y varias modelos de Victoria's Secret, han compartido en las redes sociales que el sérum es una parte integral de su rutina diaria de cuidado de la piel.
"El primer producto que quería presentar a ByDzyne era Flawless porque es nuestro producto estrella. Es el producto que se ha convertido en sinónimo del nombre de Epione porque tiene tres ingredientes muy básicos que son muy naturales, penetran en la piel muy rápidamente y atrapan el agua en su interior para que tengas 10 veces más humedad en tu cuerpo a que si no lo usaras",
compartió el Dr. Ourian.
Los tres ingredientes a los que se refiere son el ciclopentasiloxano, el ciclotetrasiloxano y el dimeticonol, que combinados crean una mezcla natural a base de aceite que se siente sedosa, aterciopelada y equilibrada. El producto también se creó teniendo en cuenta la salud interna y la responsabilidad medioambiental, ya que no contiene fragancias, sulfatos ni crueldad animal, es un producto no transgénico y es vegano.
Mientras que los ingresos de ByDzyne en el mercado mundial seguramente se dispararán, el Dr. Ourian también compartió su entusiasmo por la colaboración y por participar en la visión de ByDzyne de cambiar vidas y desarrollar una cultura en la que no existan las limitaciones
"Soy un gran fan del marketing de redes. Todo esto es realmente un privilegio y estoy deseando formar equipo con todos los miembros de la empresa, porque todos los que he conocido hasta ahora son sinceros, entusiastas y realmente todos están aquí, no sólo para construir un negocio, sino también para tener una base de un estilo de vida realmente saludable y maravilloso que queremos promover y que queremos tener nosotros mismos y los que nos rodean",
declaró el nuevo afiliado de ByDzyne.
Para obtener más información sobre el producto, visite: www.bydzyne.com/epione
Para vera entrevista exclusiva con el Dr. Simon Ourian haz click aquí: https://youtu.be/F_CKQLslooo
Recommended Distributors ByDzyne