ByDzyne's Marketing Team Brings Home Viddy Platinum Award
August 26, 2021
By Team Business For Home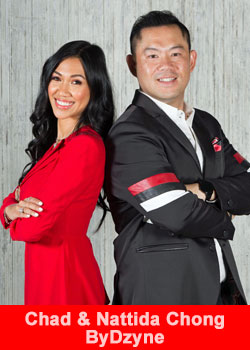 In yet another remarkable feat, ByDzne has captured its seventh recognition award of the year by becoming official Platinum Winners of the renowned Viddy Awards for its excellence in its Viral Marketing Campaign.
The Viddy Awards, one of the oldest and most respected award programs in the industry, is an international competition designed to honor creative excellence in digital communication. Since its inception in 1995, the prestigious award competition has had over 50 thousand entries from over 100 countries worldwide and continues to attract submissions from some of the world's most respected firms and organizations including AIG, Nationwide, and UPS.
Competition and creative acknowledgment are at their highest peak at Viddy Awards, with categories spanning a wide array of video technology communication, including, long and short-form videos, broadcast and non-broadcast television programs, commercials, social media videos, podcasts, remote learning, animation, and virtual and augmented reality productions.
With just over 2,500 entrants this year, the Platinum Award, the Viddy Awards' most prestigious honor, was also presented to other major companies including AARP, Dell, and Optum.
"We are so humbled to accept this Viddy Platinum Award. Our marketing team has gone above and beyond this year in truly showcasing the endless opportunities and one-of-a-kind products available here at ByDzyne. All credit goes to them and we look forward to providing them and the rest of BD Nation even more to be excited about as we continue our march to develop a culture where limitations don't exist,"
shared a grateful Chad Chong, co-founder of ByDzyne.
That culture has been depicted flawlessly. With just a simple click and often not even 60 seconds later, it's clear why ByDzyne's marketing team has been heavily lauded.
Whether it's an ad campaign highlighting the benefits of one of the company's exclusive top-of-the-line wellness products, or an invitation to tour some of the world's most exotic destination spots through the company's elite travel subscription platform, BD Dream Vacations, the stories told are on another level—beautiful visuals, immaculate communication and transitions, and simple calls to action (CTA) for its viewers.
The award, administered by the Association of Marketing and Communication Professionals (AMCP) is the company's second recognition in as many months, as ByDzyne also recently secured dotCOMM's Gold Award for its digital marketing and communication excellence in Brand Awareness.
If 2021 and ByDzyne's shiny trophy cabinet are any indication of what is to come for a company still less than five years old, the industry has not seen anything yet—just how Chong and the rest of ByDzyne's founders dreamed it.
El equipo de marketing de ByDzyne se lleva a casa el premio Viddy de Platino
En otra hazaña notable, ByDzne ha conseguido su séptimo premio de reconocimiento del año al convertirse en ganadores oficiales de Platino de los renombrados Viddy Awards por su excelencia en su campaña de marketing viral.
Los Viddy Awards, uno de los programas de premios más antiguos y respetados de la industria, es una competición internacional diseñada para honrar la excelencia creativa en la comunicación digital.
Desde su creación en 1995, este prestigioso concurso ha recibido más de 50.000 candidaturas procedentes de más de 100 países de todo el mundo y sigue atrayendo candidaturas de algunas de las empresas y organizaciones más respetadas del mundo, como AIG, Nationwide y UPS.
La competencia y el reconocimiento creativo están en su punto más alto en los Premios Viddy, con categorías que abarcan una amplia gama de la comunicación de la tecnología de vídeo, incluyendo, vídeos de larga y corta duración, programas de televisión emitidos y no emitidos, anuncios, vídeos de medios sociales, podcasts, aprendizaje a distancia, animación y producciones de realidad virtual y aumentada.
Con algo más de 2.500 participantes este año, el Premio Platino, el más prestigioso de los Premios Viddy, se concedió también a otras grandes empresas como AARP, Dell y Optum.
"Nos sentimos muy honrados de aceptar este Premio Platino de Viddy. Nuestro equipo de marketing ha ido más allá este año al mostrar realmente las infinitas oportunidades y los productos únicos disponibles en ByDzyne. Todo el mérito es de ellos y estamos deseando ofrecerles a ellos y al resto de la nación BD aún más cosas por las que entusiasmarse mientras continuamos nuestra marcha para desarrollar una cultura en la que no existan las limitaciones",
compartió un agradecido Chad Chong, cofundador de ByDzyne.
Esa cultura se ha representado de forma impecable. Con un simple clic y, a menudo, ni siquiera 60 segundos después, está claro por qué el equipo de marketing de ByDzyne ha sido tan elogiado.
Tanto si se trata de una campaña publicitaria en la que se destacan los beneficios de uno de los exclusivos productos de bienestar de gama alta de la empresa, como de una invitación a recorrer algunos de los destinos más exóticos del mundo a través de la plataforma de suscripción de viajes de élite de la empresa, BD Dream Vacations, las historias que se cuentan están a otro nivel: bellas imágenes, comunicación y transiciones inmaculadas y sencillas llamadas a la acción (CTA) para sus espectadores.
El premio, administrado por la Asociación de Profesionales del Marketing y la Comunicación (AMCP), es el segundo reconocimiento de la empresa en otros tantos meses, ya que ByDzyne también obtuvo recientemente el Premio de Oro de dotCOMM por su excelencia en marketing digital y comunicación en el ámbito de la conciencia de marca.
Si el año 2021 y la brillante vitrina de trofeos de ByDzyne son un indicio de lo que está por venir para una empresa que aún tiene menos de cinco años, el sector aún no ha visto nada, tal y como lo soñaron Chong y el resto de los fundadores de ByDzyne.
Recommended Distributors ByDzyne