CorVive Announces Brooks Gordon As Chief Communications Officer
August 3, 2021
By Team Business For Home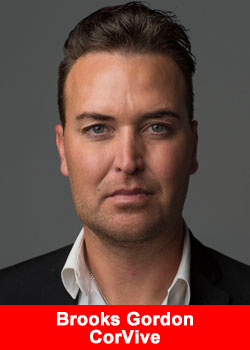 When Candice and Jeremy Fouts approached Brooks to work with them to create a company that focused on world-class products coupled with an endorser-first vision he jumped at the opportunity.
Brooks has had a stellar career in the health and wellness field for over 15 years; serving as CMO, Creative Director, and Vice President of Sales and Marketing for a handful of exceptional brands.
The various executive level positions he has held run the gamut. He has overseen everything from the global expansion of billion dollar brands to playing critical roles in start-up companies that have achieved monumental success.
"We love Brooks and the range of experience he brings to CorVive, we had an amazing time propelling our previous company to astonishing success,"
stated CorVive Founder Jeremy Fouts,
"but above all else it is Brooks's ability to love, serve and care is what makes him an integral part of the CorVive corporate squad."
A true dream team Gordon was able to team up with Fouts to create one of the fastest growing network marketing companies in the past decade.
Accolades aside Gordon is excited to see CorVive continue to grow and positively influence the lives of thousands, by continually executing on the steadfast vision of the Fouts. The CorVive foundation and mantra of "love, serve and care" are really what attracted him to accept the call to assist in growing CorVive in any way possible.
As CorVive turns three this year the company is focused on refining messaging, perfecting operations, and opening the flood gates as it continues its mission to share the company's encouraging message and amazing products to all those that will listen and have a desire to change their lives for the better.
Brooks is committed to contribute as much as possible to make sure that CorVive stays true to its roots while the company's early vision and mission continues to come to life.
About CorVive
CorVive has partnered with some of the most prestigious formulators in the market place to ensure well-formulated products that distinguish CorVive from other supplement companies.