Interview With Martin Bylsma Crowd1's Head Of Compliance
August 3, 2021
By Team Business For Home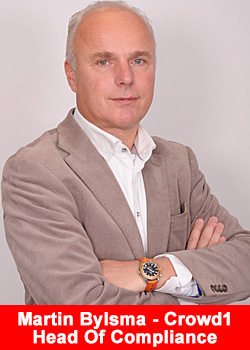 Compliance is at the heart of Crowd1's success, says Martin Bylsma.
When it comes to Compliance, how familiar are you with your company's Policies & Procedures? At Crowd1, one of the leaders in the MLM sphere, great emphasis is placed on Compliance to ensure all Members and their teams are able to reach new heights while staying within the required parameters to safeguard the company's integrity.
Martin Bylsma, Crowd1's Head of Compliance, explains further:
"Success in our business quite often relies on integer messaging and communication. Crowd1 goes to great lengths to ensure that our Members – from the top Ambassadors to the newly joined – understand the basic compliance requirements and are able to apply these when speaking to interested parties".
He goes on to emphasise that this applies to all Crowd1 staff as well.
"We cannot overemphasise the importance of a knowledgeable staff complement. "From the inside out, Crowd1 strives to hold everyone to the highest ethical and moral standards."

"Together we strive towards a long-term sustainable future for Crowd1, and this benefits everyone involved in the organisation"
emphasises Bylsma.
The legal framework within which Crowd1's dedicated Compliance Department operates determines the way that Compliance cements its Policies and Procedures (which are regularly updated). The Department furthermore has state-of-the-art social media software in its arsenal, which it effectively utilises to scan the Internet 24/7 for any possible social media offenses.
How does Crowd1 ensure that no legal and ethical boundaries are crossed?
All Crowd1 Members have access to comprehensive training material stipulating Compliance tenets, and the company has a dedicated, knowledgeable support infrastructure in place that is on call to assist with ensuring clarity.
Furthermore, Crowd1 holds regular events – both in-person and virtual – with an important training component regarding how Compliance continuously strives towards safeguarding Crowd1's integrity.Some examples of how to successfully act compliant according to Crowd1:
Make sure you never misrepresent the business by, for instance intimating that Crowd1 is an investment opportunity
At all times, use the official approved communication material provided by HQ or the Marketing department when talking to prospective customers and Members
Make sure to always identify yourself as an Independent Affiliate, not an official representative
Do not make unrealistic income claims
"We always have to strive to improve and for perfection, that is why both internal and external communication and ongoing training are such crucial components".
"In the end", Bylsma says, "Compliance is about all of us; we are all Compliance".
About Martin Bylsma
Martin Bylsma has more than 25 years of experience at the highest management level at top multi-million corporations in the direct sales industry.
Proven track record in restructuring, business development, corporate affairs, sales and marketing, legal, compliance, finance, HR and operations in dynamic direct sales organizations around the world. Martin's mission is to create excellent compliance that helps all Crowd1 members to realize a profitable, sustainable and successful Crowd1 business worldwide.
Fact box about compliance work at Crowd1 
Every Crowd1 Member has to act according to Crowd1's terms and conditions. If not, the Compliance Department will enforce Crowd1's policies and procedures which may lead to temporary suspension or final termination of a Member's account.
Members of which the account has been (temporarily) locked will need to contact the Compliance Department who will deal with each individual case and judge whether an appeal against the suspension or termination has been valid or not and if a penalty applies.
About Crowd1
Crowd1 is an established online social community and marketing company registered in Dubai, UAE, with a unique and empowering vision to unleash the opportunities provided by global marketing.
At Crowd1 we are proud to be democratizing access to the next revolution in the digital space, online crowd marketing. With an extensive and swiftly expanding community of passionate and highly motivated entrepreneurs, we aim to make Crowd1 the pre-eminent name in online marketing. For more information please visit www.crowd1.com