Latin-American (Peru) Based MINED Celebrates Official Launch
August 17, 2021
By Team Business For Home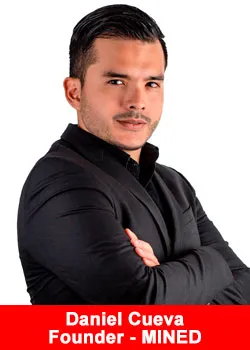 With 2 digital products, a consolidated leadership base and a corporate team focused on the right tasks and a strong mindset, MINED celebrated its official launch making it clear that they were born to lead the revolution of the MLM industry.
With just 3 months of pre-market, the company has managed to gain a lot of ground around 15 countries, breaking historical records in the industry, not only scaling on expansion matters, but on sales too, surpassing 12,000 clients in this short period of time. This is due to the high demand they serve with their digital products MINED ACADEMY and MINED TV.
MINED is a digital academy focused on giving its clients the opportunity to train and educate themselves professionally in trending and cutting-edge careers such as Trading and E-Commerce. 
Supported by 2 robust platforms, MINED offers their students (clients) a series of courses based on a curriculum elaborated by professionals with a vast experience in both majors through its MINED ACADEMY portal.
At the same time, they manage a specific curriculum for their MINED TV platform in which they share more than 8 hours of classes and live virtual workshops every day for their students to learn, replicate and duplicate the information shared in these classes.
Founded by Daniel Cueva, MINED has recruited renowned industry professionals to lead the project in all the necessary areas. Looking with this to give the multinational company, the sustainability and scale capacity that actual companies need.
With already 25 educators and a corporate team led by Mauricio Dodero as the CEO, MINED is already considered the leading company in Latin-America for the field of education within the MLM industry.
Excellent education, excellent results 
Currently, MINED has already distributed around $500,000 in bonuses to their distributors in only 3 months of pre-market. This is dragging a lot of attention towards the company since every fifteen days we are seeing new and better results among its clients and distributors.
The amount of money that they have paid belongs to the disruptive ideas that the company applies as an internal policy.
This has led them to create the first "Optimized Hybrid Selective" Compensation Plan in history; an absolutely flexible plan that allows the entrepreneur/distributor to choose strategically how to structure his business to boost his profits, giving him a choice between binary, trinary and tetranary, allowing him to generate bonuses of up to US$ 1,000,000 monthly. 
A positive growth process
In conversations with MINED we discovered that they have a strong tendency to generate a positive impact on people's lives. We can see this not only an internal work philosophy, but also in the development structure that they offer to all their distributors and clients so that they can achieve a high mental state that allows them, not only to enjoy better finance for themselves and their family, but also a constant growth that leads them to live a different lifestyle from the spiritual and mental realm.
Programs like TOP MINDSET (an exclusive MINED program) allow people to start a process of growth and development in professional and personal leadership so that change and evolution become a true constant in the lives of MINED members. This program has been helping thousands of people around the world by training them as leaders in the international markets, creating what many call "an army of leadership" that one by one is growing and changing the lives of its members.
A true luxury lifestyle 
By October '21, MINED has planned to carry out the company´s first Travel Bonus, for which it estimates taking around 35 clients in recognition to their efforts and focus on their MINED business. This trip will be nothing less than to the paradise beach of Punta Cana, located in Dominican Republic. A place where the company promises to cover all expenses and deliver a new and disruptive experience.
MINED has as value proposition, not only to improve their client's lifestyle, but also to be committed to constantly generate positive and disruptive experiences. It was with this premise that MINED launched the company´s new Exclusive Travel Bonus at their main event: an all-paid trip for its top leaders in the company to the FIFA World Cup – Qatar 2022.
It is with proposals like this that MINED, not only seeks to differentiate itself in the market, but also makes clear its intentions to impact the lives of its clients & distributors in a different and disruptive way.
Flexibility and easy Access
With more than 10 packs of digital products, MINED offers its clients the opportunity to start in the academy of Trading or E-Commerce with an enrolment of only $35 (one-time payment) and a monthly subscription of US$ 100.
In the same way, the company, who's always seeking to deliver greater and better benefits, has created the Quarterly and Annual packs, which allow the user to substantially reduce the monthly costs of the services.
This makes MINED the best opportunity not only to educate yourself in the financial and digital markets, but also to be able to start your own business in which you can decide when to educate yourself and how much to earn per month.
Vision of global conquest
MINED's proposal doesn't end there.
Just a few days after the official launch, the company has managed to design for the first time the one and only trading Scanner on the market that automatically detects Elliotist figures known as "Contractile Diagonals". These diagonals give the trader a high probability about the direction of the asset being evaluated, which generates a probability advantage when they are speculating on the price on a financial asset.
Wedge Vision, as they named their scanner, is presented as a high-performance tool in the financial markets for both novices and experts. Allowing novices to quickly identify the figures within the chart and experts to analyze multiple assets and time frames at the same time, giving the trader all diagonals in real time as final results.
"In simple terms we could compare the scanner to a calculator. Its a tool that facilitates operational work, saves us a lot of time and doesn't make calculation errors."
Without hesitation, the company is already in developing the first investment alert app, which will offer its clients and distributors the opportunity to receive real-time alerts on investment opportunities and follow-up them on the financial markets that operate.
All these actions are accompanied by a business plan that aims to bring high-quality education to all the corners of the world.
About MINED
Located in Lima, Peru, MINED is a company whose main purpose is to bring quality education and real opportunities to the lives of millions of people around the world.
Their main products so far are the digital Trading and E-Commerce careers through its two platforms MINED ACADEMY and MINED TV. With the premise of living by a philosophy of constant innovation, its Wedge Vision scanner and the investment alert app are added to their product portfolio. The last product cannot be disclosed due to confidentiality issues but they assure it will be launched soon to the market.
With already more than 12,000 clients, the company is committed to continue to revolutionize positively the industry in order to consolidate a global proposal available to all those seeking for a better lifestyle.
For more information, you can go to www.mined.world or contact one of our MINED businessmen.