Nu Skin Q2 2021 Revenue Up 15% To $704 Million
August 7, 2021
By Team Business For Home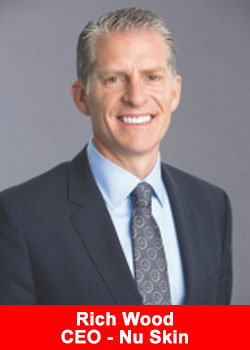 Nu Skin Enterprises, Inc. (NYSE: NUS) today announced second-quarter 2021 revenue of $704.1 million and earnings per share (EPS) of $1.15 driven by an increase in operating margin of 260 basis points.
Q2 2021 vs. Prior-year Quarter:
Revenue: $704.1 million: +15%    +6% fx impact or $36.9 million
Earnings Per Share (EPS): $1.15; +42%
Sales Leaders: 64,228: +15%
Customers: 1,467,617 (2%)
"Our growth and success this quarter and over the past year reflect our strategy of delivering world-class beauty and wellness products, being customer obsessed, and digitally enabling our business,"
said Ritch Wood, chief executive officer.
"Our performance was led by continued growth in our beauty device systems and further adoption of social commerce. In addition, we significantly improved profitability during the quarter, which led to strong earnings per share growth. We have a solid foundation in place, and I am fully confident in Ryan and our leadership team to build on the momentum and take Nu Skin to the next level."
Ryan Napierski, president and CEO-elect, added,
"We continue to advance our vision of becoming the world's leading beauty and wellness company, powered by our dynamic affiliate opportunity platform. During the quarter, we strengthened our position as the market leader in beauty device systems as our latest device system, ageLOC Boost, generated momentum with a strong launch in EMEA.

Additionally, we are pleased with the rollout of Nutricentials Bioadaptives, which is targeted at a millennial/Gen Z consumer. In the back half of the year, we will be begin rolling out Beauty Focus Collagen+, which leverages our unique strength in both beauty and wellness, and ageLOC Meta, our next significant Pharmanex product introduction.
"We are pleased with 15 percent growth in sales leaders, while customers declined slightly due to a significant surge in the prior year. To better support our affiliates with customer acquisition, we will be rolling out additional digital tools over the next several quarters such as personalized social commerce shops in Mainland China. This represents a significant step forward in deploying our digital tools in the world's largest social commerce market."
About Nu Skin Enterprises, Inc.
Founded more than 35 years ago, Nu Skin Enterprises, Inc. (NSE) empowers innovative companies with sustainable solutions, opportunities, technologies and life-improving values. The company currently focuses its efforts around innovative consumer products, product manufacturing and controlled environment agriculture technology.
The NSE family of companies includes Nu Skin, which develops and distributes a comprehensive line of premium-quality beauty and wellness solutions through a global network of sales leaders in Asia, the Americas, Europe, Africa and the Pacific; and Rhyz, our strategic investment arm that includes a collection of sustainable manufacturing and technology innovation companies. Nu Skin Enterprises is traded on the New York Stock Exchange under the symbol "NUS." More information is available at nuskinenterprises.com.
Recommended Distributors Nu Skin