Rain International Sponsors Soccer Matches In Italy
August 13, 2021
By Team Business For Home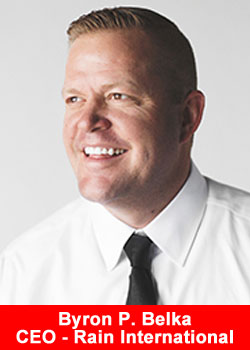 Rain International continues to extend its reach into different parts of the world in clever and purposeful ways. While they normally rely on powerful word-of-mouth marketing, pushed by their testimonial-driven Rain Partners, they're trying something new. This time, they're sponsoring fútbol games in Italy.
 This strategic sponsorship not only illustrates the continuing and expanding success of Rain International on a national scale, but underscores the athletically-driven nutrients that Rain infuses into each of their seed-based products.
We interviewed the CEO and Founder of Rain International, Byron Belka about this:
 "It's quite an amazing thing to see the name of your company, wrapped around the football pitch on shining, LED signs. It was almost like it was meant to be there. And we felt it fit perfectly.

We are, first and foremost, a health company that pushes human performance through seed-based nutrition. What better place to show that than on the field of a team that's been winning a lot of soccer games recently?"
 Sponsorships are always a tricky thing. Byron went on to say that they want to make sure that the events, teams, or persons they sponsor are in line with who they feel they are as a company, and what they want their seed-powered products to represent. In this case, they felt that the US Triestina football club of Trieste City perfectly embodied what their ethos was all about: promoting health, wellness, and unmatched performance through better nutrition.
 Rain wishes to push the sponsorship even further, with an idea to push this into a lasting partnership that stretches into the future. Soccer is the number one sport in Italy, and most of Europe for that matter. In fact, Italy just won the 2021 European Soccer Championship in a penalty shootout.
 The future of Rain's sponsorship looks like this: two games with U.S. Triestina – AS Roma, and another in the future U.S. Triestina – Verona. Those at Rain hope that the brand awareness provided will bolster their presence in Italy, and make the job of the new Rain Partners joining the Italian market a little bit easier. This will not only help extend Rain's brand recognition, but help their plans to expand and create sizable teams throughout the country.
We not only look forward to seeing Rain's name in shining lights during these upcoming soccer matches, but are optimistic about what it will do for the brand as the grow and expand in a blossoming market.
About Rain International
Rain International is the original creator of seed-based nutrition. Our experts have gone to the source of plant nutrition to formulate products proven to support healthy lives. Rain International is more than the products we sell.
From the beginning, we set out to make changes to improve the world around us starting with the health industry and moving beyond its borders into global sustainability, education initiatives, elevated lifestyles, and more. We believe that the ultimate human experience we all crave is within everyone's reach, and we don't mind leading the way. For more info please visit www.rainintl.com.
Recommended Distributors Rain International