SAHM And Top Earner Brittany Gardner Joins Velovita
August 3, 2021
By Team Business For Home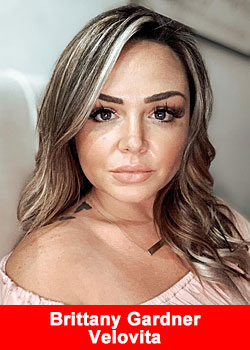 At 26-years old, Brittany Gardner and her husband have a lot on their plate; two small sons and a brand-new baby keep them busy in their small town in Mississippi.
Though she never had the opportunity to complete college, Brittany is proud of some accomplishments. Take for example the multimillion-dollar team she built, massively providing for her family, and now helping other stay at home moms with no professional background do the same.
Brittany has been around the MLM fire for six years and leans on her why to drive her, providing for her family and working to leave a legacy behind. Recently Brittany shared,
"Another huge part of my drive is to help small town mamas like me make an impact and provide for their families in such a massive way so they can give back and never live paycheck to paycheck".
When Brittany was looking to plant her Network Marketing flag, she looked to Velovita, a new, already global innovator in the biohacking space. Why Velovita? Says Gardner,
"Having a simple, instant-impact product that is affordable. I knew this would be something I could easily share. Being global is huge; you don't have to box in your network and can make a huge impact globally."
Velovita Co-founder and President, Kosta Gara added
"Our products are just one of the incredible factors our Members love about Velovita. We're proud to support our Members like Brittany with the system, compensation plan, fastest (and cheapest) global shipping for customers and the culture to keep Members successfully building a future for years."
Brittany agrees and encourages distributors to leverage all those factors:
"Simplicity is so powerful, affordability is powerful, aligning with a company that is still so new but has all of their ducks in a row is even more powerful. Combine all of this together and you have the tools needed to truly take off quickly",
added Gardner.
About VELOVITA
Founded on 90+ years of operational and field success, VELOVITA is rapidly becoming a global leader of innovation in the field of biohacking, social selling, community expansion and support for the new world entrepreneur. Their mission is to provide an ecosystem of inspiration, education, and life enrichment. VELOVITA has a singular focus on the individual to increase their daily performance both mentally and physically.
For more information on VELOVITA, please visit Velovita.com or Velovita's Facebook page. You may also contact us at [email protected] To join the new movement, click here for the Velovita Member Rewards. We know you'll #LOVIT!
Recommended Distributors Velovita