Top Young Living Leader Madison Vining Joins Modere
August 7, 2021
By Team Business For Home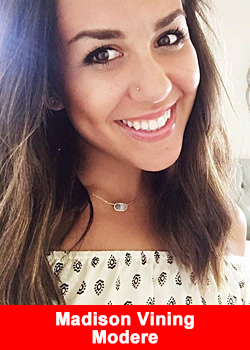 Over the weekend, Madison Vining, who ran one of the top-selling teams in the company with her husband, Tyler, made a shocking announcement on social media. The couple said they had decided to leave Young Living for Modere, another MLM that has seen success hawking a line of collagen products, another buzzy trend in wellness.
In an IGTV video made available to Madison's more than 237,000 followers, the couple shared that, after around eight years with the company, they had resigned from Young Living. A few days later, Madison announced on her Instagram stories that they were moving to Modere.
In the comments of the video and elsewhere online, Madison's followers and downlines (the people below her in her Young Living business) expressed total shock. To understand their feelings, you have to know just how sweet the Vinings' Young Living gig was.
Madison and Tyler had "Royal Crown Diamond" status in Young Living, which meant they were among the most successful consultants in the company.
According to the company's 2019 statistics, Royal Crown Diamond sellers made an average of $1,645,692 annually, or roughly $137,000 a month. This revenue, of course, is mostly made up of sales generated by the Vinings' team, the Happy Oilers, who made the base of the, let's say, pyramid-shaped structure the couple sat on the top of.
By quitting Young Living, Madison and Tyler are walking away from it all, and they will need to rebuild their team from scratch. To many, the move made no sense.
"My head hurts trying to understand. Walking away from over a million-dollar residual income a year & your team for another company?" wrote one commenter. Another person claimed the Vinings had not even informed their teammates before making the announcement. "I'm happy for you and excited to see what comes next, I'm a bit bummed I didn't see this directly in the Happy Oilers,"
she wrote.
Madison later said on Instagram that, because of the terms of her exit, she was not able to directly contact any of her team members before leaving.
As first published by Buzzfeednews
About Modere
Modere offers a category-leading portfolio of live clean lifestyle essentials including beauty and personal care, health and wellness, and household products that are equal parts high-performing and scientifically designed. We believe modern health involves pure nutrition and a clean environment across all our product categories.
Modere brings a holistic, live clean approach to well-being, and our products reflect a commitment to excellence and innovation with tested formulas proven around the globe. The recipient of multiple third-party validations, our line includes products that are US EPA Safer Choice-approved, EWG Verified™, NSF Certified and gray-water appropriate. The company is a proud supporter of Vitamin Angels®.
Recommended Distributors Modere