Velovita Launches 3rd Innovative Biohacking Formula
August 16, 2021
By Team Business For Home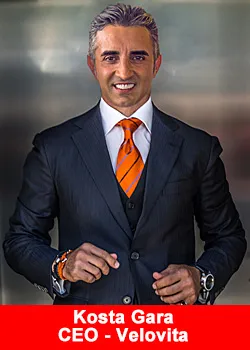 As global innovators in the biohacking space, Velovita has just added a third product to their already impressive lineup. While Velovita's flagship biohacking formula, brān® promotes a natural energy boost, increased focus and less brain fog, there was a need in the marketplace for more.
zlēm™ was then introduced and quickly became a bestseller for the company who successfully designed this formula to help with better sleep and slimming properties. Still, Velovita saw an area to develop another solution.
Enter uüth™, pronounced yüth. It's brand-new and boasts some noteworthy benefits and carefully selected ingredients that point to looking and feeling younger than you have in years.
To be taken orally, this premium Superberry gelée includes collagen peptides to support healthy, hydrated skin, hair, nails, and joints.
It also contains some of the latest, ground-breaking ingredients available, that when combined, feed your body's building blocks what they crave with an abundance of rich antioxidants, life-enhancing nutrients, and immune-supporting properties.
Our bodies already produce collagen, but it begins to deplete by the time we hit our 20s. Regularly consuming collagen peptides however can slow the signs of aging and dryness. Studies have shown increased hydration, elasticity, and a more youthful appearance as a result.
Says Velovita's Founder & CEO, Kosta Gara,
"We're so excited about uüth™ and the feedback flooding in already from those who tested it and love what it's doing for them.

We're also proud of our ongoing efforts to support our Members and Customers with a commitment to the very best in development of products that are not only advanced but also highly impactful with results you can feel almost immediately."
About VELOVITA
Founded on 90+ years of operational and field success, VELOVITA is rapidly becoming a global leader of innovation in the field of biohacking, social selling, community expansion and support for the new world entrepreneur. Their mission is to provide an ecosystem of inspiration, education, and life enrichment. VELOVITA has a singular focus on the individual to increase their daily performance both mentally and physically.
For more information on VELOVITA, please visit Velovita.com or Velovita's Facebook page. You may also connect at [email protected]. To join the new movement, click here for the Velovita Member Rewards. We know you'll #LOVIT!
Recommended Distributors Velovita