ByDzyne's Launches Clean Energy Drink LIGHTN1NG
September 23, 2021
By Team Business For Home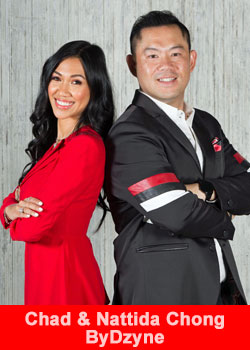 ByDzyne has joined the fitness revolution with the launch of LIGHTN1NG, a zero-calorie, zero-sugar fizzy energy drink packed with flavor, that is sure to revolutionize the wellness industry as we know it. Made from natural ingredients, this guilt-free drink not only aids in weight management, but also stimulates essential energy, which is known to improve moods, attitudes, and alertness. *
The new wellness product's makeup is also groundbreaking—meticulously formulated with nature-based products that produce a dynamic fizzy carbonated drink that is both delicious and healthy. The product is also consumer-friendly, being offered as a stick pack in powder form so whether in line for a family road trip, a big day at work, or kickstarting a new workout regime, LIGHTN1NG provides clean energy for every instance anytime and anywhere.
"We are so excited to announce the arrival of our newest product, LIGHTN1NG! In our years of experience in this industry, we know that a successful company has to deliver the very best in products.

And we believe this clean energy drink is just that and more. It has the healthiest ingredients, it tastes so good, and it can be your go-to energy drink no matter what the occasion,"
shared an enthusiastic Chanida Puranaputra, chairwoman of ByDzyne.
The drink's natural ingredients include acerola cherry extract, green coffee bean extract, and L-Carnitine, all of which play a significant role in providing the ultimate energy boost. The acerola cherry extract is a superfruit with properties of vitamin C, and contains phytochemicals that can promote the body's natural defenses and support natural digestion.
With a regulated kick of caffeine, green coffee beans contain high concentrations of Chlorogenic Acid that assist in weight management when consumed in partnership with a healthy diet. And L-Carnitine, a nutrient and dietary supplement, produces clean energy due to its thermogenic effect that supports weight management.
With a mouthwatering blend of lemon, blackberry, and açaí, LIGHTN1NG tastes as good as the natural boost it provides. The drink delivers a one-of-a-kind hydrating freshness, and each sip is sealed with a burst of refreshment.
Simply put, LIGHTN1NG is a beverage like no other—no sugar, soy-free, no sucralose, no dairy, gluten-free, no preservatives, and no artificial ingredients, all while increasing the body's metabolism and creating healthy sustainable energy.
Jed Buenaluz, ByDzyne's first-ever 3-Star President, agrees that LIGHTN1NG packs a powerful punch.
"LIGHTN1NG is a game-changer. It is a world-class, 5-star product that everybody will want. BD Nation get ready because this new energy drink will change your life and will also change the lives of those around you as we all pursue a healthy lifestyle.

For me, saying yes to LIGHTN1NG is saying yes to wellness," exclaimed the influential leader.
A healthy lifestyle through LIGHTN1NG is almost here, as the product is in high demand in its current pre-sale (retail price: $42.60, wholesale price: $31.95) and will begin shipping to available locations in October.
*LIGHTN1NG alone does not produce any weight loss in the absence of a healthy diet and moderate activity. These statements have not been evaluated by the Food and Drug Administration. This product is not intended to diagnose, treat, cure, and prevent any diseases.
ByDzyne's lanza la bebida energética limpia LIGHTN1NG
ByDzyne se ha unido a la revolución del fitness con el lanzamiento de LIGHTN1NG, una bebida energética efervescente sin calorías ni azúcares y repleta de sabor, que seguramente revolucionará la industria del bienestar tal y como la conocemos. Elaborada con ingredientes naturales, esta bebida libre de culpa no sólo ayuda a controlar el peso, sino que también estimula la energía esencial, lo que se sabe que mejora el estado de ánimo, la actitud y el estado de alerta. *
La composición del nuevo producto de bienestar también es innovadora: está formulado con productos naturales que producen una bebida carbonatada efervescente y dinámica que es deliciosa y saludable. El producto también es fácil de consumir, ya que se ofrece en forma de sobre en polvo, por lo que, ya sea en la cola para un viaje familiar por carretera, un gran día en el trabajo o el inicio de un nuevo régimen de entrenamiento, LIGHTN1NG proporciona energía limpia para cada instancia en cualquier momento y en cualquier lugar.
"Estamos muy contentos de anunciar la llegada de nuestro nuevo producto, LIGHTN1NG. En nuestros años de experiencia en esta industria, sabemos que una empresa de éxito tiene que ofrecer lo mejor en productos. Y creemos que esta bebida energética limpia es eso y más. Tiene los ingredientes más sanos, tiene un sabor delicioso y puede ser la bebida energética a la que recurras en cualquier ocasión",
afirma una entusiasta Chanida Puranaputra, presidenta de ByDzyne.
Entre los ingredientes naturales de la bebida se encuentran el extracto de cereza acerola, el extracto de grano de café verde y la L-Carnitina, que desempeñan un papel importante a la hora de proporcionar el impulso energético definitivo. El extracto de cereza acerola es una superfruta con propiedades de vitamina C, y contiene fitoquímicos que pueden promover las defensas naturales del cuerpo y apoyar la digestión natural.
Con una patada regulada de cafeína, los granos de café verde contienen altas concentraciones de ácido clorogénico que ayudan a controlar el peso cuando se consumen en asociación con una dieta saludable. Y la L-Carnitina, un nutriente y suplemento dietético, produce energía limpia debido a su efecto termogénico que apoya el control de peso.
Con una deliciosa mezcla de limón, mora y açaí, LIGHTN1NG sabe tan bien como el impulso natural que proporciona. La bebida proporciona una frescura hidratante única, y cada sorbo se sella con una ráfaga de refresco.
En pocas palabras, LIGHTN1NG es una bebida como ninguna otra: sin azúcar, sin soja, sin sucralosa, sin lácteos, sin gluten, sin conservantes y sin ingredientes artificiales, todo ello mientras aumenta el metabolismo del cuerpo y crea una energía sostenible y saludable.
Jed Buenaluz, el primer presidente de 3 estrellas de ByDzyne, está de acuerdo en que LIGHTN1NG tiene un gran impacto.
"LIGHTN1NG es un cambio de juego. Es un producto de clase mundial, de 5 estrellas, que todo el mundo querrá. BD Nation prepárate porque esta nueva bebida energética cambiará tu vida y también cambiará la vida de los que te rodean, ya que todos buscamos un estilo de vida saludable. Para mí, decir sí a LIGHTN1NG es decir sí al bienestar", exclamó el influyente líder.
Un estilo de vida saludable a través de LIGHTN1NG está casi aquí, ya que el producto está muy solicitado en su preventa actual (precio de venta al público: 42,60 dólares, precio de venta al por mayor: 31,95 dólares) y comenzará a enviarse a los lugares disponibles en octubre.
*LIGHTN1NG por sí solo no produce ninguna pérdida de peso en ausencia de una dieta saludable y una actividad moderada. Estas afirmaciones no han sido evaluadas por la Food and Drug Administration. Este producto no está destinado a diagnosticar, tratar, curar y prevenir ninguna enfermedad.