Industry Icon Austin Zulauf Joins Velovita
September 2, 2021
By Team Business For Home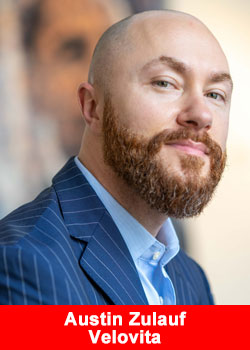 Austin Zulauf is one of the most accomplished leaders.
As a #1 Income Earner in three companies (in just over a decade), there's no doubt he knows what it takes to reach success – especially in the Network Marketing profession. Austin is now a sought-after trainer and coach, having worked with some of the top names in our space.
Growing up on a farm and dropping out in the 9th grade hasn't stopped Austin from excelling. He's been listed as one of Business For Home's Top 100 MLM Ambassadors of all time and has been featured on the cover of Networking Times magazine. He's also been a featured speaker for ANMP events, been featured on Yahoo Finance as a Top Entrepreneur to follow, been featured in Business Insider and more.
Says Zulauf,
"I've always wanted one company I could give 100% of myself to: a home. I needed somewhere for the people who believe in me and partner with me in business to thrive in a major way, while having tons of fun and building something truly legendary!
It would have to be global, have a business model that's truly unique and be backed by solid infrastructure that can withstand major growth as well. There's no question that Velovita has everything we've been looking for and more. To say we're excited is an understatement!
My leadership team and I needed somewhere the average person can create an incredible product story as well as earn a solid side income that gives them peace of mind in these trying times.
People have enough going on nowadays. We're here to uplift and support our partners to lead more fun and fulfilling lives.

The VELOVITA products help with that, having formulations that focus on physical, as well as mental health with their newest product changing everything!"
Having the skill, work ethic and influence to create major momentum, Austin Zulauf has decided to make VELOVITA his home once and for all.
VELOVITA, a global company, is servicing most of Europe, the UK, Japan, and all of North America, including Canada & Mexico. The company has plans to expand further very quickly, particularly in the Asian and Latin markets.
About VELOVITA
Founded on 90+ years of operational and field success, VELOVITA is rapidly becoming a global leader of innovation in the field of biohacking, social selling, community expansion and support for the new world entrepreneur. Their mission is to provide an ecosystem of inspiration, education, and life enrichment. VELOVITA has a singular focus on the individual to increase their daily performance both mentally and physically.
For more information on VELOVITA, please visit Velovita.com or Velovita's Facebook page. You may also contact us at [email protected] To join the new movement, click here for the Velovita Member Rewards. We know you'll #LOVIT!
Recommended Distributors Velovita