Mark Ewell Achieves Royal Black Diamond Rank At Vasayo
September 2, 2021
By Team Business For Home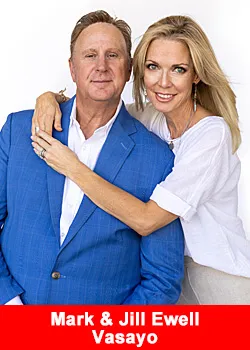 "I do have a favorite," says Mark Ewell, when asked about the nutritional supplements he markets as a Vasayo Royal Black Diamond. "Core Complete."
"There is no multivitamin on the market that can compare to Core Complete's nutritional benefits, yet anyone can afford it," Ewell continues.
"The lofty but awesome vision that Vasayo set at the very beginning was to create an incredible and affordable multivitamin that would affect millions of lives. They've done that and so much more with their product line." 
Ewell views Vasayo's products as "some of the finest the world has ever seen" as evidenced by the accolades the company has earned, including being honored in 2019 with a Top 50 Healthcare Company award by the International Forum on Advancements in Healthcare (IFAH).
"That is a big deal," Ewell says. "It makes it so much easier to build a business that has been validated by a reputable scientific community such as this."
Ewell also credits his successful business to the ability the Vasayo Rewards Plan gives him to speak into people's lives.
"We have one of the fairest and most lucrative pay plans because it has the best of both worlds: security in depth and wealth in width," Ewell says. "People can really follow their dreams here no matter where they are in their lives."
About Vasayo
Vasayo is a direct sales company based in Pleasant Grove, Utah. For passionate people who seek abundance in life, we create products that promote wellness, enhance beauty, and support daily renewal.
Through our science, we maximize the delivery of nutrients to the human body using liposomal technology and other advanced delivery systems. And through our mission to bless 1 million lives, we empower our Brand Partners to change the world. For more information, visit vasayo.com. Follow Vasayo on Facebook or Instagram.