Somsy Kounlabout Achieves Diamond Rank At Valentus
September 15, 2021
By Team Business For Home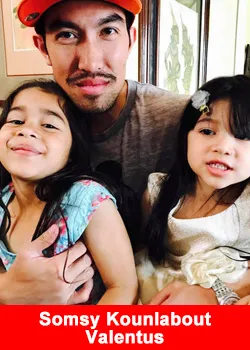 Somsy Kounlabout stated upon his achievement:
The opportunity saved my life and has created a healthier lifestyle for me and my family.
I work as retail sales consultant for a major paint company. Working 40+ hours a week and am constantly on the go. As a single father of two children, making sure I have enough energy to do my job and take care of my family is my number 1 priority.
My sister Haddy knew I enjoy drinking energy drinks but when she shared the healthy energy drink with me, I was skeptical. I tried so many healthy energy drinks before and it didn't have the kick I wanted.
When I tried the energy drink on my next workout routine. I was blown away! I got a better pump and didn't feel the crash like I do with other pre-workouts! I was hooked! I brought it with me to every gym session. People at the gym started to ask me about what I was mixing up and I got some of my gym buddies to try it out.
When I shared my experience on social media my inbox flooded. Friends and family started to ask questions. Orders were coming from my website. Everything happened so fast! In a few short months our team achieved Diamond!
I am grateful for all my friends and family who support me. Without them and my team I would not be able to understand the power of Valentus. Some weeks I get paid more from Valentus than from my job that pays me every two weeks!
I was able to pay off my $15,000 credit card debt and now I am able to afford to go on more vacations with my two girls! When things start to slow down at my job, I don't feel bad taking time off for my family.
This has been one of the greatest blessings to happen to me. I get to enjoy products I love. I get to share it with people I love. The more I have the more I can give and continue to make a difference every day.
About Valentus
In Latin, the word "Valentus" means "prevail," defined as proving to be superior in strength, power, and influence. Recognizing that, we could n0t have picked a more fitting name for a company that strives to be the example in an industry that deserves a leader to follow.
Since day one, our focus, our passion, and our commitment have been to create a company, a product line, and an opportunity built on a foundation of integrity.
From creating significant levels of income, to building strong networks, healthy long-lasting relationships, making new friends, participating in activities you never even knew existed, having the time to do the things you love with the people you love to be with, VALENTUS can help you PREVAIL in ALL of your goals. For more information please visit www.valentus.com
*Earnings Disclaimer
Results may vary and are not typical- place after any testimonial or income claim statement. Earning levels, rank advancement or income statements (including claims such as the ability to quit a job or achieve a luxury lifestyle) discussed here exceed average results achieved by all Representatives during the same time period, and are not necessarily a representation of the success or compensation that any particular Representative will receive. These should not be considered typical or average and may vary from person to person.
The ability to earn income under the Valentus Compensation Plan depends on many factors including the Representatives sales, business and social skills and experience; personal ambition and drive; availability of time and financial resources; and access to a large network of family, friends, and business contacts.
Valentus cannot and does not guarantee any particular level of earnings. Even if a Representative, who dedicates a significant amount of time, effort, and money may not achieve a meaningful level of income with Valentus.