Adam Broker Celebrates 165-Pound Weight Loss With QuiAri     
October 29, 2021
By Team Business For Home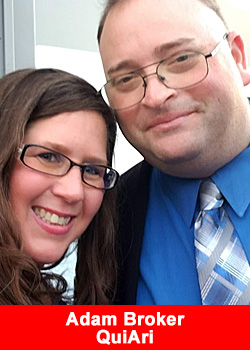 Over the last 2 years, QuiAri's products and opportunity have changed countless lives in over 200 countries around the world.
However, one of the most dramatic life changes happened in Las Vegas. Adam Broker, one of QuiAri's most recent Champion Promoters and Las Vegas resident, had been working in the MLM industry for over a decade with only moderate success.
He also struggled daily with his weight. Adam was morbidly obese and desperately needed to make lifestyle changes right away. Fortunately, a friend introduced him to QuiAri.
"I joined QuiAri during their pre-launch phase two years ago and it saved my life. I lost control of my weight. I was really heavy and it was making my life harder – my health, personal relationships, work – everything.

I needed to make a complete lifestyle change, but I had no idea where to start. I had heard about QuiAri, got some samples, and immediately fell in love with the products.

At the time, I had no idea how much QuiAri would change me as a person. My life instantly started getting better,"
said QuiAri Champion Promoter, Adam Broker.
 Adam followed the step-by-step instructions and drank a delicious QuiAri Shake every morning followed by a powerful Energy tablet. He started feeling the nutritional benefits right away, and decided he would use his extra energy to exercise.
He started slow, talking long walks around his neighborhood whenever he could. When the weight started to drop off, he started walking further and swimming.
"My walks got farther and farther away from the house and I incorporated swimming into my routine. At first, I could only do about 5 laps. Now I'm up to 100 laps in a single session. This has been a milestone month for me. Since July 12, 2019, I've lost a whopping 165 pounds and I'm still going."
Adam is experiencing more than just weight loss. QuiAri products are known to support and promote:
A Strengthened Immune System
Weight Loss
Increased Energy Levels
A Healthy Inflammatory Response
Anti-Aging
Total Body Cleansing
Healthier Skin
Ocular (Eye) Health
Cardiovascular System Health
Healthy Blood Sugar Levels
He's also earning extra income as a Promoter and getting paid commissions in 5 minutes after each sale. He recently advanced to the rank of Champion, which is one of QuiAri's highest ranks.
"I feel like a new man. I had to go out and buy new pants and shirts at least 4 times now, but I don't mind it at all. I've upgraded my lifestyle quite a bit – and it's not just my clothes.

I used to live in a 2-bedroom condo with my family. We needed more space, so we're now in a 2 story, 4-bedroom home that I absolutely love. I was also able to purchase a new SUV that my wife really wanted and I have an electric Mercedes arriving soon that I'm really excited about.

My QuiAri business has completely exploded both locally and internationally. I have teams in places I never thought possible – India, Vietnam, Mexico, Philippines, Thailand, and Europe.

I've just reached the high rank of Champion, but I want to go all the way to the top. Purple Diamond is my ultimate goal, and I know I can do it,"
said Champion Adam Broker
Getting closer to living his dream lifestyle and ideal weight has motivated Adam to help his team do the same. QuiAri gives Promoters plenty of industry-first resources to help share the products and opportunity worldwide.
"As Promoters, we are blessed to have resources like the World's First Free Tour Marketing System and the Super Star Guide. The Free Marketing System is genius.

It helps you keep in touch with new Prospects, automatically and leads them directly to a pre-recorded Opportunity Presentation hosted by Bob. The technology was developed by QuiAri's in-house I.T. Team., so everything is very easy and user friendly."
QuiAri's Super Star Guide is also a new addition that's helping Promoters climb the ranks. It's a step-by-step guide to achieving the rank of Super Star or higher in 200 days or less. It was created based around the same strategies QuiAri Founder and CEO, Bob Reina used back when he was an Associate working successfully in the field.
"People have seen the hope and opportunity that QuiAri has to offer, and they realize the power and importance of our business. I'm having the time of my life at QuiAri. I look and feel better than ever, I'm earning extra income, and I'm seeing my dreams start to come true."
QuiAri Founder and CEO, Bob Reina is happy to see Adam climbing the ranks and is not surprised to see him accomplish his weight loss goals.
"Adam is terrific at duplicating his success. He shows up to every live event and is always eager to learn something new. His story is so inspiring!

Even with the help of QuiAri products losing 165 pounds takes an incredible amount of determination, but he's experiencing the benefits of living healthier.

He no longer needs a seat belt extender when he flies on an airplane. He can participate in more activities with his family. He has time freedom, financial freedom, and a plan for his future. I'm so proud of him,"
said QuiAri Founder and CEO, Bob Reina.
No one knows what the future holds for Adam. His plan is to lose another 30 to 40 pounds and continue expanding his business around the world.
"I've created good habits with the help of QuiAri that will stick with me for life. Whether it's weight loss or earning extra income, consistency will get you to your goals.

I don't really see myself, or anyone on my team, as a salesperson. QuiAri is a service to helping others grow and discover their paths to success. I'm really proud to be part of the QuiAri family,"
stated Adam Broker.
About QuiAri
QuiAri is the #1 health and weight loss movement in the world today. Featuring exclusive, breakthrough products (QuiAri Shake and QuiAri Energy) featuring the world's new #1 superfruit, the Maqui berry, people everywhere are losing weight, boosting their energy levels, and improving their health. What started as an idea has now become a worldwide phenomenon, gaining a passionate following in over 200 countries.
But that's not all! We boast an exciting opportunity to promote QuiAri products and earn commissions within 5 minutes after each sale through industry-first, state-of-the-art payment technology.
Combining unrivaled products with the fastest payout, the fastest cycling binary, and one of the highest paying compensation plans in the industry, there's no doubt QuiAri is helping people live healthier, happier lives. To learn more, please visit quiari.com.
These statements have not been evaluated by the Food and Drug Administration. These products are not intended to diagnose, treat, cure or prevent any disease.
Income Disclosure Statement
Please note the QuiAri business opportunity offers unlimited income potential. However, QuiAri makes no guarantee of financial success. Success with QuiAri results only from successful sales efforts, which require hard work, diligence, skill, persistence.
These statements have not been evaluated by the Food and Drug Administration. These products are not intended to diagnose, treat, cure, or prevent any disease.
Recommended Distributors QuiAri