Business For Home Masterclass Speaker: Jonathan Sifuentes!
October 22, 2021
By Team Business For Home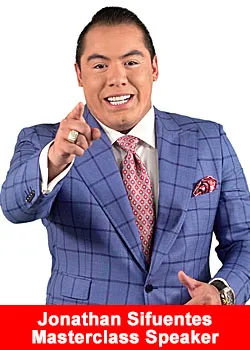 Jonathan Sifuentes, from Mexico, is one of the most prominent Latin American leaders in the network marketing industry. His story proves the power of consistent commitment and determination to turn dreams into reality.
15,000+ Network Marketing Professionals from around the world will come together for 3 days in an immersive generic training experience, the ultimate Masterclass, with 35 Top Speakers:
Jonathan Sifuentes boasts an extremely successful track record in business and entrepreneurship. Always eager to learn, he was introduced to the industry at a very young age and has benefited greatly from the training his parents, network marketing entrepreneurs, gave him as a child.
His life took a big turn when, at the age of 12, he emigrated to the United States with his family, a new country, with no friends and without speaking the language.
However, his path has not been without challenges. Jonathan's tenacity and hard work have been the elements that have established him as one of the highest earning leaders in the industry and have enabled him to be a mentor, guiding the path of hundreds of leaders passionate about transformation and development.
"I am a person who teaches by example. Every affiliate in this company can see the work ethic that I apply every day and I encourage others to do the same: there is no day that goes by that I don't work.

This is why I am one of the highest paid leaders in the industry. But it's no longer about me, it's about how many millionaires I will create. My vision is to create a thousand millionaires in the next five years, impacting on thousands of people."
Jonathan has proven his talent from a very young age. At the age of 7, he began to understand the personal growth of an entrepreneur, and at the age of 10, he started his first business selling toys, encouraged by his parents, who had different businesses and knew what entrepreneurship was from an early age and always supported him.
At the age of 15, Jonathan, with big goals and dreams, officially started looking for opportunities in network marketing. Today, Jonathan is developing extensive teams with a record-breaking figure of over 50 million dollar a month in turnover.
"I always ask myself what my contribution to people is to improve their quality of life and leave a legacy on this planet. And as an answer, I always affirm my firm commitment to share my knowledge and develop new entrepreneurs and help thousands of leaders around the world".
"How You Can Become A Rising Star"
10-11-12 December 2021
15,000+ Network Marketing Professionals from around the world will come together for 3 days in an immersive generic training experience, the ultimate Masterclass, with 35 Top Speakers:
Real-Time Translation in 19 languages
Arabic, Bengali, Chinese (Simplified), Chinese (Traditional), Dutch, English, French, German, Hindi, Indonesian (Bahasa), Italian, Japanese, Korean, Polish, Portuguese, Russian, Spanish, Tamil, Vietnamese.
No Hype, No Upsells, Pure Knowlegde
It is delivered to you in a completely generic format. No companies or products are ever mentioned, so you will feel safe to share this ultimate masterclass with your Team!
What you will learn:
How to use social media to build up your business.

How to talk to your warm market.

How to recruit people into your team.

How to follow up prospects

How to build a rock solid team.

How to coach your team.

How to find the perfect mentor or coach.

How to add value and position yourself as a great leader.

How to deal with the inevitable rejection.

How to develop an unbreakable mind set.

How to build up part-time.
A ticket is just $42 for all 3 days + the replay!
Recap June 2021 Masterclass / Conference:
Network marketing Top leaders, Fast Rising Stars, as their mentors and coaches will share their methods and "secrets" to recruit, team up and build a large organisation.
35+ International Top Speakers, Coaches, Mentors and Rising Stars!