ByDzyne's Daniela Álvarez From Ecuador Achieves 2-Star President Rank
October 2, 2021
By Team Business For Home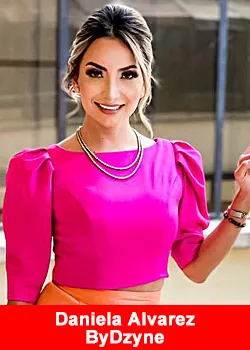 Quickly becoming known as an entrepreneurial juggernaut in the industry, ByDzyne's Daniela Álvarez has hit the 2-Star President ranking at ByDzyne and is one of only a handful of Ecuadorian women to have reached the impressive feat.
*A 2 Star President generates over $400,000 USD of sales revenue in 15 days or less.
Álvarez, boasting a little more than seven years in the industry, achieved her status in just four months, and already has an established team and presence in more than 10 countries.
The South American leader, who often preaches that people should be the owners of their own time and income, knew that the opportunities at ByDzyne were simply incomparable.
"These are my top reasons why I chose ByDzyne and what makes it different than any other company out there:
The momentum here is unmatched. It is the right opportunity, in the right place, and booming at the right time. And this often does not happen twice in life, so everyone needs to capitalize.
The concept of having and offering opportunity in the three most important trends today—wellness, digital, and travel. It allows us entrepreneurs to reach every market niche for adults, youth, fitness, etc.
Our amazing executive and corporate team. It is an absolute honor to work with people who are icons of the industry, with impressive results, and all who created a company of leaders for leaders, who understand what we need on the field and who are willing to do their best for the organization. This simply does not happen in the industry."
ByDzyne's executive team has been blown away by Álvarez's work ethic, and is confident there is even greater success up ahead.
"We congratulate Daniela for her unbelievable achievements here at ByDzyne. She is proof that with hard work, attention to detail, and an unwavering commitment to your dreams, that anything is possible.

Her passion and desire to help others is also infectious, and we know that with that positive attitude that there is nothing stopping her from even greater accomplishments,"
shared Chad and Nattida Chong, ByDzyne's cofounders.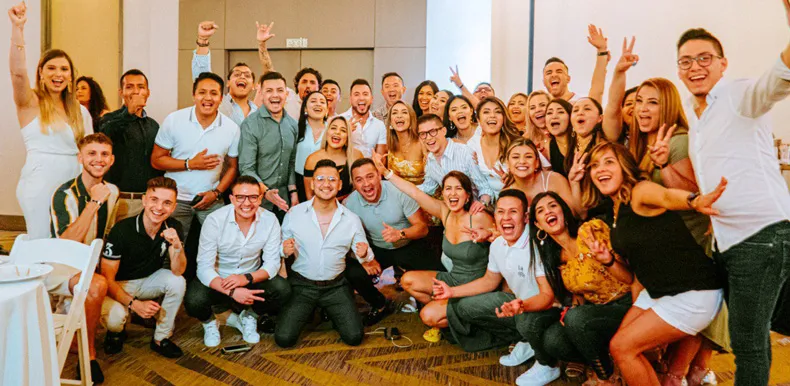 And that seems to be what is up ahead for Álvarez. While the world of network marketing continues to evolve and pieces continue to shift, ByDzyne's latest 2-Star President is convinced that she is not only right where she needs to be, but finally feels herself.
"For me, ByDzyne is a gift from God that allows me to have a real business for real people. It allows me to continue fulfilling my goals, to help create more wealth for families and it is simply the best decision I have made in my life. We have the best opportunity and the best mentors, and after seven long years, I can finally say that I have found my home,"
conveyed a determined Álvarez.
*ByDzyne makes ZERO income claims. It takes hard work and dedication to make a substantial income. All results may vary. For the full income disclosure please visit www.ByDzyne.com
La ecuatoriana Daniela Álvarez, de ByDzyne, alcanza el rango de Presidenta 2 estrellas
Daniela Álvarez, de ByDzyne, se está dando a conocer rápidamente como un gigante empresarial del sector y ha alcanzado el rango de presidenta 2 estrellas en ByDzyne, siendo una de las pocas mujeres ecuatorianas que han alcanzado esta impresionante hazaña.
*Un presidente de 2 estrellas genera más de 400.000 dólares de facturación por ventas en 15 días o menos.
Daniela, que lleva poco más de siete años en el sector, alcanzó su estatus en sólo cuatro meses, y ya tiene un equipo establecido y presencia en más de 10 países.
La líder sudamericana, que suele predicar que las personas deben ser dueñas de su propio tiempo e ingresos, sabía que las oportunidades en ByDzyne eran simplemente incomparables.
"Estas son las principales razones por las que elegí ByDzyne y lo que la hace diferente a cualquier otra empresa:
El momentum aquí es incomparable. Es la oportunidad adecuada, en el lugar adecuado, y está en auge en el momento adecuado. Y esto no suele ocurrir dos veces en la vida, así que todo el mundo tiene que capitalizarlo.
El concepto de tener y ofrecer una oportunidad en las tres tendencias más importantes hoy en día: el bienestar, lo digital y los viajes, nos permite a los empresarios llegar a todos los nichos de mercado de adultos, jóvenes, fitness, etc.
Nuestro increíble equipo ejecutivo y corporativo. Es un honor absoluto trabajar con personas que son iconos de la industria, con resultados impresionantes, y todos los que crearon una empresa de líderes para líderes, que entienden lo que necesitamos en el campo y que están dispuestos a hacer lo mejor para la organización. Esto simplemente no ocurre en la industria".
El equipo directivo de ByDzyne ha quedado impresionado por la ética de trabajo de Daniela, y confía en que el éxito sea aún mayor.
"Felicitamos a Daniela por sus increíbles logros en ByDzyne. Ella es la prueba de que, con trabajo duro, atención a los detalles y un compromiso inquebrantable con tus sueños, todo es posible. Su pasión y su deseo de ayudar a los demás también son contagiosos, y sabemos que con esa actitud positiva no hay nada que le impida alcanzar logros aún mayores",
comparten Chad y Nattida Chong, cofundadores de ByDzyne.
Y eso parece ser lo que le espera a Álvarez. Mientras el mundo del network marketing sigue evolucionando y las piezas siguen cambiando, la última presidenta de 2 estrellas de ByDzyne está convencida de que no sólo está justo donde tiene que estar, sino que por fin se siente ella misma.
"Para mí, ByDzyne es un regalo de Dios que me permite tener un negocio real para gente real. Me permite seguir cumpliendo mis objetivos, ayudar a crear más riqueza para las familias y es simplemente la mejor decisión que he tomado en mi vida. Tenemos la mejor oportunidad y los mejores mentores, y después de siete largos años, por fin puedo decir que he encontrado mi casa",
transmitió una decidida Álvarez.
*ByDzyne no hace declaración ninguna de ingresos. Se necesita mucho trabajo y dedicación para conseguir unos ingresos considerables. Todos los resultados pueden variar. Para conocer la información completa sobre los ingresos, visite www.ByDzyne.com
Recommended Distributors ByDzyne