ByDzyne's Wellness Trend Captures iLuxury Award
October 26, 2021
By Team Business For Home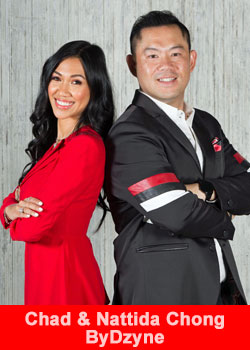 ByDzyne has brought home a prestigious iLuxury Award, highlighting the company's renowned skincare line and celebrating its one-of-a-kind flawless serum, Epione, as one of, if not the most luxurious wellness products on the market today.
The iLuxury Awards, a prominent awards program that highlights the best brands, products, and services from around the world, is a major haul for the young company. The Awards is an International Awards Association (IAA) competition, which includes 14 different award programs that has received over 43,000 entries from over 100 countries since 2015.
Other winners of the iLuxury Award this year include numerous 5-star hotels across the globe including lavish resorts in Greece, the Maldives, and the United Arab Emirates. ByDzyne, however, was the only network marketing company winner, and also the only recipient being honored for luxurious skincare products.
"We are so humbled and filled with joy to receive this iLuxury Award. It signifies that we offer the very best in products and that we will stop at nothing to continue that trend.

We are grateful for everyone who made this possible, including our team of health and beauty experts and our collaboration with the iconic Dr. Simon Ourian and his legendary Epione Flawless Serum,"
shared a thankful Chad Chong, ByDzyne's cofounder.
The Epione Flawless Serum, known as the holy grail of skincare for celebrities, is a powerful Dr. Ourian product that enriches the skin with longevity, rejuvenation, and radiance. The serum was recently launched in August and has expectedly become one of the most sought-after products in the industry.
Dr. Ourian, one of the leading authorities in the field of cosmetic dermatology with clients that include the Kardashian-Jenner family, Lady Gaga, and Miley Cyrus, shared himself that the serum is Epione's "hero" product because of how transformational and luxurious on the skin it really is.
And luxury seems to follow ByDzyne wherever it goes. Whether it's the recent launch of yet another wellness product like the highly-anticipated Lightn1ng Energy drink, a zero-calorie, no sugar, flavorful beverage that stimulates essential energy and is packed with healthy ingredients, or the plethora of top industry leaders flocking in and expanding international markets, more iLuxury awards may soon be on the way.
Cause if it's about celebrating, recognizing, promoting, and selecting the most extravagant brand and products, ByDzyne is proving to the world that it may very well be at the top of the mountain.
*ByDzyne makes ZERO income claims. It takes hard work and dedication to make a substantial income. All results may vary. From July 2020 to June 2021, the typical annual income earned by a ByDzyne distributor is $540.05 For full income disclosure please visit www.bydzyne.com/IDS. For the full income disclosure please visit www.ByDzyne.com
Spanish Version
La tendencia de bienestar de ByDzyne gana el premio iLuxury
ByDzyne se ha llevado a casa un prestigioso premio iLuxury, destacando la reconocida línea de cuidado de la piel de la empresa y celebrando su flawless serum único, Epione, como uno de los productos de bienestar más lujosos del mercado actual, si no el que más.
Los iLuxury Awards, un destacado programa de premios que destaca las mejores marcas, productos y servicios de todo el mundo, es un gran logro para la joven empresa. Los premios son un concurso de la Asociación Internacional de Premios (IAA), que incluye 14 programas de premios diferentes que ha recibido más de 43.000 entradas de más de 100 países desde 2015.
Entre los otros ganadores del Premio iLuxury de este año se encuentran numerosos hoteles de 5 estrellas de todo el mundo, incluidos lujosos complejos turísticos en Grecia, las Maldivas y los Emiratos Árabes Unidos. Sin embargo, ByDzyne fue la única empresa de marketing en red ganadora, y también la única galardonada por sus lujosos productos para el cuidado de la piel.
"Nos sentimos muy humildes y llenos de alegría al recibir este premio iLuxury. Significa que ofrecemos lo mejor en productos y que no nos detendremos ante nada para continuar esa tendencia.

Agradecemos a todos los que lo han hecho posible, incluido nuestro equipo de expertos en salud y belleza y nuestra colaboración con el emblemático Dr. Simon Ourian y su legendario Epione Flawless Serum",
compartió un agradecido Chad Chong, cofundador de ByDzyne.
El sérum Epione Flawless, conocido como el santo grial del cuidado de la piel para las celebridades, es un poderoso producto del Dr. Ourian que enriquece la piel con longevidad, rejuvenecimiento y luminosidad. El sérum se lanzó recientemente en agosto y se ha convertido en uno de los productos más solicitados del sector.
El Dr. Ourian, una de las principales autoridades en el campo de la dermatología cosmética con clientes que incluyen a la familia Kardashian-Jenner, Lady Gaga y Miley Cyrus, compartió que el suero es el producto "héroe" de Epione por lo transformador y lujoso que es en la piel.
Y el lujo parece seguir a ByDzyne allá donde va. Ya sea por el reciente lanzamiento de otro producto de bienestar, como la esperada bebida Lightn1ng Energy, una bebida sin calorías, sin azúcar y con sabor que estimula la energía esencial y está repleta de ingredientes saludables, o por la plétora de líderes de la industria que acuden y amplían los mercados internacionales, es posible que pronto lleguen más premios iLuxury.
Porque si de lo que se trata es de celebrar, reconocer, promocionar y seleccionar la marca y los productos más extravagantes, ByDzyne está demostrando al mundo que bien puede estar en la cima de la montaña.
*ByDzyne hace CERO afirmsciones de ingresos. Se necesita mucho trabajo y dedicación para conseguir unos ingresos considerables. Todos los resultados pueden variar. De julio de 2020 a junio de 2021, el ingreso anual típico obtenido por un distribuidor de ByDzyne es de $540.05 Para la divulgación completa de los ingresos por favor visite www.bydzyne.com/IDS. Para la divulgación completa de los ingresos por favor visite www.ByDzyne.com