Industry Rock Star Paige Hart Joins QuiAri
October 14, 2021
By Team Business For Home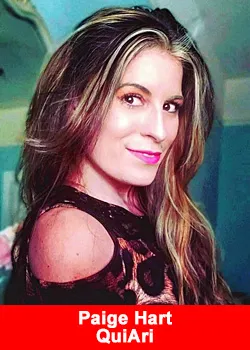 Paige Hart is having fun, earning extra income, and feeling great at her home in Inverness, Florida, but life looked much different for her just 6 years ago. She was homeless in the city of Havelock, North Carolina, and had so little money she could barely afford to eat. 
"Until I discovered the MLM industry, I went through some really difficult times. I was living on food stamps, which I would trade with people just to sleep on their couch for a night or two.

During the day, I'd sell hand-painted glasses for whatever money I could get. While all this was happening, I was facing some major health challenges.

There were days when I felt like giving up. Fortunately, a friend introduced me to the MLM industry and it saved my life,"
stated Paige Hart.
She was living out of a suitcase and a trash bag filled with everything she owned. At this point in Paige's life, failure was not an option. She worked hard, learned about the power of duplication, and built a large global network along the way.
"I was finally back on my feet and living an average life. I had a place to live and enough food to eat, but knew I wanted more.

I moved from California to Florida and reconnected with my old friend, Legend QuiAri Promoter, Sabra McCraw.

She said she had something so exciting and that it was going to knock my socks off. Little did I know, she was absolutely right.

QuiAri exceeded all of my expectations, and with their products and opportunity, I'm feeling happier, healthier, and closer than ever to living my dream lifestyle."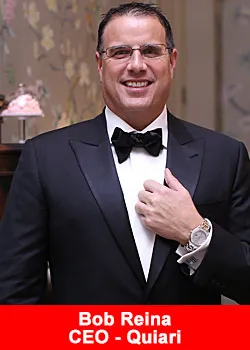 QuiAri's Compensation Plan provides Paige with generous opportunities to earn unlimited income potential and proprietary industry-leading payment technology called Same Day Pay.
That's commissions paid anywhere in the world in 5 minutes or less. QuiAri Founder and CEO, Bob Reina, developed Same Day Pay technology in-house with his I.T. team to help Promoters get paid commissions at the fastest speeds in the industry.
"I was a Police Officer prior to my success in the Network Marketing industry.

I didn't like waiting two weeks to get paid, especially at a time when I was only making around $30,000 a year and my bills were due.

Even when I started my career in Network Marketing as an Associate, I'd sometimes wait months to get my check.

There was no chance I'd treat Promoters the same way when I started QuiAri. Our mission is to help people, not hold them back,"
stated QuiAri Founder and CEO, Bob Reina.
Paige likes the feature in QuiAri's Mobile App where a "cha-ching" sound effect rings every time she earns a commission. Her success at QuiAri has changed her lifestyle as well as her goals for the future.
 "I love the products and the amazing Corporate Executive team Bob has put in place. The business runs smoothly, and the leaders all work together in a family-like culture and are all committed to helping me succeed.

I can't believe I've already reached the rank of Rock Star in such a short period of time! My dream in the next 5 years is to create a legacy for my family.

QuiAri never sleeps as they are in over 200 countries and growing.

Just knowing I could build relationships worldwide and potentially have Promoters and Customers on my team in every single one of them is exciting,"
said Paige Hart.
 In addition to the financial and time freedom Paige is enjoying, she is a product of the product. Paige is also looking and feeling better than ever.
"I noticed an improvement in my health right away after taking QuiAri products. I had more energy, I was in a good mood all of the time, and just felt more alert overall.

I also LOVE the taste of QuiAri Shake Chocolate and Vanilla. It's not chalky or gritty like other shakes. In fact, the vanilla tastes like birthday cake batter.

I'm also a fan of the pure, smooth QuiAri Energy tablets. They have become an important part of my life and help me with my workouts." 
 Paige said her business is exploding as a result of her efforts and QuiAri's massive global expansion efforts. She can't wait for QuiAri to become the next multi-billion-dollar business.
"This is just the beginning. My business is growing fast, and just knowing I have the opportunity to help people just like me realize their full potential and live their best life is exciting.

I'm honored to be part of this team and have no doubt QuiAri will be one of the largest health and wellness companies in the world." 
About QuiAri
QuiAri is the #1 health and weight loss movement in the world today. Featuring exclusive, breakthrough products (QuiAri Shake and QuiAri Energy) featuring the world's new #1 superfruit, the Maqui berry, people everywhere are losing weight, boosting their energy levels, and improving their health. What started as an idea has now become a worldwide phenomenon, gaining a passionate following in over 200 countries.
But that's not all! We boast an exciting opportunity to promote QuiAri products and earn commissions within 5 minutes after each sale through industry-first, state-of-the-art payment technology. Combining unrivaled products with the fastest payout, the fastest cycling binary, and one of the highest paying compensation plans in the industry, there's no doubt QuiAri is helping people live healthier, happier lives. To learn more, please visit quiari.com.
These statements have not been evaluated by the Food and Drug Administration. These products are not intended to diagnose, treat, cure or prevent any disease.
Income Disclosure Statement
Please note the QuiAri business opportunity offers unlimited income potential. However, QuiAri makes no guarantee of financial success. Success with QuiAri results only from successful sales efforts, which require hard work, diligence, skill, persistence.
These statements have not been evaluated by the Food and Drug Administration. These products are not intended to diagnose, treat, cure, or prevent any disease.
Recommended Distributors QuiAri