Marius Keunan From Ivory Coast Achieves President One Star Rank At Crowd1
October 15, 2021
By Team Business For Home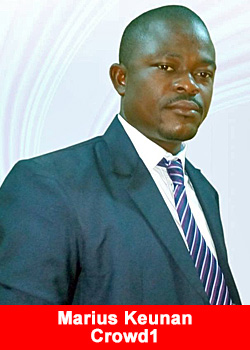 Marius Keunan, President One Star, sees his life changed with Crowd1.
It was 2017, and in an instant his world was turn upside down.
Keunan, from the Ivory Coast, was involved in an accident which led to the amputation of one of his arms.
Before the accident, he was flying high: he had just launched an events marketing company and was ready for success. The future was full of promise, and he was excited. Then, all of it was gone.
It's an unfortunate part of life that some people see disability as a constraint. Keunan's partners started abandoning him, believing that his amputation would somehow adversely affect the business. His dream was gone.
Then, his life was once again transformed. A friend introduced him to Crowd1, the world's leading network marketing company.
Intrigued by the fact that he would be able to work fully online, Keunan did his research, familiarised himself with the products and got to work. There were challenges in the beginning, but with grit and determination come results.
After two years with Crowd1, Keunan has risen in the ranks to President 1 Star – a fantastic achievement. He is confident that he will reach President Two Star soon.
Success demands daily work and not resting on your laurels. Keunan understands this, and therefore he puts hours in every day by organising conferences and meetings, checking in on his downlines and making sure they are supported.
He realises that, by helping his downlines move forward, his business grows alongside theirs. This is where the Power of the Crowd comes in: contrary to going it alone, when you work as a community, you achieve more.
Keunan is recognised in the Ivory Coast as a person who supports others and lifts them up; qualities that Crowd1 recognises as paramount to success. They are invested in the success of their affiliates and provide the necessary support and training to ensure that everyone involved with the company benefits fully.
As the world starts opening up, Keunan looks forward to travelling more and taking more vacations. With LifeTRNDS, Crowd1's exciting travel booking product, he is able to explore and discover the world – something he never thought would be possible lying in that hospital bed in 2017.
Respect. Dignity. Success. Marius Keunan has found all of this through his stellar work with Crowd1. A life changed, indeed.
About Crowd1
Crowd1 is an established online social community and marketing company with its office registered in Dubai, UAE, with a unique and empowering vision to unleash the opportunities provided by global marketing.
At Crowd1 we are proud to be democratizing access to the next revolution in the digital space, online crowd marketing. With an extensive and swiftly expanding community of passionate and highly motivated entrepreneurs, we aim to make Crowd1 the pre-eminent name in online marketing. For more information, please visit www.crowd1.com
Recommended Distributors Crowd1