BE Launches Corporate Social Responsibility Program
November 18, 2021
By Team Business For Home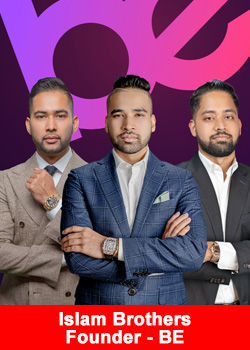 BE Founders put People, Planet & Progress in the forefront with BE Share, BE's newest Corporate Social Responsibility Program.
BE's products have always been a catalyst for people across communities with diverse backgrounds to thrive. The company's mission is to provide equal opportunity to all for creating a lasting change and significant impact in the lives of people.
The true measure of success for  BE Founders, Moyn Islam, Monir Islam and Ehsaan Islam, isn't just great products, rather their business leading to empowerment, a more inclusive environment, and a community that gives back. BE's Corporate Social Responsibility (CSR) program has People, Planet, and Progress as the key pillars and the efforts are guided by the Islam brothers' values and beliefs of "stronger as a society and a company".
BE Share is BE's newest Corporate Social Responsibility program and the purpose of it is to give back to the community. For them, CSR initiatives are a lever for strengthening the Company's support to the communities globally.
The program kicked off in Colombia with the commitment and support of BE's Vice President, Jose Ardon alongside other BE leaders as they spread empowering stories and shared invaluable experiences to the youth.
BE Share will continue to spread its purpose and impact internationally keeping Innovation, Safety,  Sustainability, Personal Development, and Inclusion at the core of the program, focusing around four sectors:
Children and Youth
Awareness and ending enslavement
Environmental protection and sustainability
World Hunger
Ethos
The program for children focuses on providing an opportunity to access education, safety, and rights. To inculcate the philosophy that they are worthy of a good future and empower them to pursue their dreams with optimism and dedication.
The program for the environment emphasizes spreading awareness on the current and upcoming effects of our carbon footprint, how we can reduce it and why we should do it.
The program for enslavement concentrates on spreading awareness and how we should involve ourselves in projects that works towards ending modern slavery such as forced child labour, human trafficking, sexual exploitation and forced marriage.
The program for world hunger draws awareness and works on solutions to its negative impacts on health, education, economic and social development of communities across the globe.
"Our objective as a global company is to inspire humanity through our CSR initiatives.

We have a long-standing commitment to social responsibility and environmental sustainability and the launch of BE SHARE is an important milestone in our journey.

We are confident that together we will rise above challenges by engaging proactively to confront these issues, individually and collectively",
the BE Founders share.
BE's vision and mission goes beyond business, by continually providing unparalleled and equal opportunities to help people from all walks of life, to progress and provide for a greener planet and a place where freedom and fulfilment of dreams are closer.
About BE
BE is a next-generation ecosystem made up of a unique concept of 'Live & Learn' which includes e-learning and travel platforms with a comprehensive set of tools for independent business owners.
The BE ecosystem uses artificial intelligence technology, to offer a decentralized, transparent, and empowering space for people from all walks of life, regardless of their educational or financial background, to build their very own multimillion-dollar business from their smartphone.
For more information, please visit www.berules.com
Recommended Distributors BE