BE Opened Ecuador With an Exceptional Event
November 25, 2021
By Team Business For Home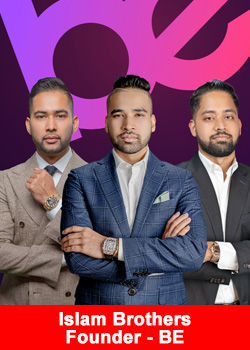 BE distributors filled the venue with excitement, enthusiasm, and unstoppable energy as the BE Unstoppable World Tour 2021 made its stop in Ecuador.
The event warm-heartedly celebrated the teams' achievements and upheld the space to build new connections and strengthen relationships.
Hundreds of attendees have shared their own stories expressing gratitude for the guidance, vision, mindset, and strategies inspired by BE, which helped them transform their dreams into reality.
BE's CVO & Co-Founder, Monir Islam, alongside BE's world-class leaders, spearheaded the successful event with mastermind resources, equipping professionals with the belief and inspiration to fulfill their dreams and expand their journey for a more fulfilling and financially free lifestyle.
"My parents' dream was always to own a house. I did multiple jobs and never could save the money for the down payment. My parents have done nothing but support me;

I have kept it as my main goal to give back to them and do all the best to achieve that. Being associated with BE helped me realize this dream is not impossible.

I owe it to myself and my loved ones to live a better life with hard work and that I can prioritize my own time and do what I love.

I did not just earn money but recognition, and I feel proud and fulfilled to be a part of the wonderful mission of BE and the Islam brothers,"
shared by one of the BE Distributors.
The BE Unstoppable World Tour 2021 will continue its tour with its next stop at Hollywood, USA. Visit www.beunstoppable2021.com for the complete information.
About BE
BE is a next-generation ecosystem made up of a unique concept of 'Live & Learn' which includes e-learning and travel platforms with a comprehensive set of tools for independent business owners.
The BE ecosystem uses artificial intelligence technology, to offer a decentralized, transparent, and empowering space for people from all walks of life, regardless of their educational or financial background, to build their very own multimillion-dollar business from their smartphone.
For more information, please visit www.berules.com
Recommended Distributors BE