ByDzyne Welcomes Network Marketing Icon Of Latin America, Conchita Vargas Lugo
November 10, 2021
By Team Business For Home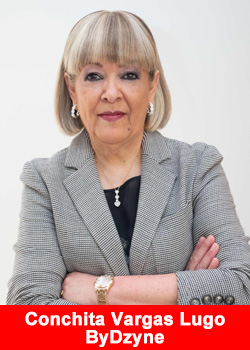 ByDzyne is welcoming in legendary icon Conchita Vargas Lugo to its worldwide leadership team as a Strategic Advisor and Consultant for the promising Latin American market.
Conchita, a renowned Mexican businesswoman with over three decades of traditional business and networking experience, has a résumé like no other—she has been featured twice in Forbes' magazine's "100 Most Powerful Women in Mexico (2016, 2020)".
She once enrolled 1,200 people in her organization in just five weeks, held the top-ranked "diamond" position as a distributor in her previous company, and she astonishingly built one of the largest teams in industry history with over 160,000 independent distributors.
Her global stature has also led her to speak at a plethora of local and international conventions, create and sustain multiple flourishing online training programs such as "Your First Million in Network Marketing," and write and publish "I Have To Do It!," a book that highlights the significant values and beliefs that not only helped transform her life but aims to do so for all of its readers.
An influential figure of the highest magnitude, Conchita has clearly devoted her life to inspiring entrepreneurs and organizations to achieve the impossible.
For ByDzyne, a company already characterized by comparable innovation and dream casting, this move is a monumental game-changer. The addition of Conchita is sure to not only generate significant growth in the Hispanic market but continue its rumblings into all corners of the globe. ByDzyne's newest trailblazer could not be more excited.
"I am delighted to join the ByDzyne movement and help create long-term growth, stability, and success for all that are part of the ByDzyne family.

It has been 18 years of remarkable personal success, but I will close with my greatest accomplishment: to train the leaders that will drive the growth of this industry and change the lives of hundreds and thousands of more Latinos than ever before, and for years and generations to come,"
conveyed ByDzyne's new consultant.
The company's executive team and a few of its highly-acclaimed leaders are ecstatic with the arrival of the Mexican superstar and are just as confident there are no limitations to how far Conchita can help elevate the momentous ByDzyne movement.
Chanida Puranaputra, ByDzyne's Chairwoman stated:
"We are beyond thrilled to welcome Conchita to the ByDzyne family! She is one of, if not the best in the industry today, and we are overjoyed for everything she brings to this company.

She will raise all of our standards, and we are confident that she will have such a positive impact on the Latin American market. You are a complete gem Conchita, and we are looking forward to seeing you thrive and do impossible things." 
Gustavo Salinas, Crown from Ecuador said:
 "I am super impressed that a lady with such a success trajectory, experience, tremendous results and rewards, and an outstanding background has chosen to become part of the ByDzyne family.

Mrs. Conchita is the perfect addition as our company continues to climb to the top of our profession. Mrs. Conchita Vargas is an industry icon and I am confident she will make a tremendous contribution for our expansion and momentum in 2022. I am grateful, proud and excited to welcome her to our ByDzyne family." 
Christian Nuñez, Crown from Peru:
"I have followed Mrs. Conchita on social media since 2015. Since that time, she has been an inspiration for me and my entire team. She is a living legend and the opportunity to have her at ByDzyne is creating great excitement for us.

Her experience and guidance will be of significant benefit to all of us. She is the queen of network marketing in the Spanish-speaking world. This is one more reason that ByDzyne is creating an influential reputation in this industry."
Conchita agrees with ByDzyne's founding team and some of the company's most prominent leaders and recognizes the unlimited potential that exists.
"ByDzyne's executives Nat and Chanida Puranaputra, Chad and Nattida Chong, Sophia Wong, and Dave Phelps are names in the industry that are synonymous with growth, ethics, and leadership; I am thrilled to work with each of them.

With their creation of this world-class opportunity, their inspiring vision of trying to cultivate the largest number of millionaires, and their unique goal of becoming the fastest organization to achieve a billion-dollar in sales, I know why ByDzyne is the most attractive project in digital entrepreneurship and networking," voiced Conchita.
The Strategic Advisor is currently scheduling a tour of Latin America, where she intends to collaborate with some of the region's most recognized leaders, and begin building the foundation that will be the framework for new and experienced leaders to find their long-term home at ByDzyne.
Her immaculate track record attests that regardless of rank or experience, those leaders will soon recognize it should only be a matter of time before their impossible dreams can become reality. And for Conchita, knowing that what she is doing is good for someone, makes it all worth it.
"The biggest success for me is my walk with God and the fact that I know He has guided me to change lives, serve others, and leave a lasting legacy in the world," uttered Conchita.  
For updates on Conchita and her new platform, please feel free to follow and contact her through her social networks or on her official website www.conchitavargaslugo.com.
SPANISH VERSION
ByDzyne da la bienvenida a Conchita Vargas Lugo, icono del marketing de redes en América Latina, como nueva asesora estratégica.
En lo que podría ser el mayor anuncio en la industria del network marketing hasta la fecha este año, ByDzyne da la bienvenida al legendario icono Conchita Vargas Lugo a su equipo de liderazgo mundial como Asesora Estratégica y Consultora para el prometedor mercado latinoamericano.
Conchita, una renombrada empresaria mexicana con más de tres décadas de experiencia en negocios tradicionales y redes, tiene un currículum como ningún otro: ha aparecido dos veces en la revista Forbes "Las 100 mujeres más poderosas de México (2016, 2020)", una vez inscribió a 1,200 personas en su organización en sólo cinco semanas, ocupó la posición de "diamante" como distribuidora en su compañía anterior, y asombrosamente construyó uno de los equipos más grandes en la historia de la industria con más de 160,000 distribuidores independientes.
Su estatura global también la ha llevado a dar charlas en una plétora de convenciones locales e internacionales, a crear y sostener múltiples y florecientes programas de formación en línea como "Tu primer millón en el marketing de redes", y a escribir y publicar "¡Tengo que hacerlo!", un libro que destaca los valores y creencias significativas que no sólo ayudaron a transformar su vida, sino que pretenden hacerlo para todos sus lectores.
Figura influyente de la más alta magnitud, Conchita ha dedicado claramente su vida a inspirar a empresarios y organizaciones para que consigan lo imposible.
Para ByDzyne, una empresa que ya se caracterizaba por una innovación afín y un casting de ensueño, este movimiento supone un cambio de juego monumental. La incorporación de Conchita seguramente no sólo generará un crecimiento significativo en el mercado hispano, sino que continuará con su rumor en todos los rincones del mundo. El nuevo pionero de ByDzyne no podría estar más emocionado.
"Estoy encantado de unirme al movimiento de ByDzyne y ayudar a crear crecimiento, estabilidad y éxito a largo plazo para todos los que forman parte de la familia ByDzyne.

Han sido 18 años de notable éxito personal, pero cerraré con mi mayor logro: formar a los líderes que impulsarán el crecimiento de esta industria y cambiarán la vida de cientos y miles de latinos más que nunca, y durante años y generaciones",
transmitió la nueva asesora de ByDzyne.
El equipo ejecutivo de la empresa y algunos de sus aclamados líderes están extasiados con la llegada de la superestrella mexicana y están igual de seguros de que no hay límites para lo que Conchita puede ayudar a elevar el trascendental movimiento de ByDzyne.
Chanida Puranaputra, Presidenta de ByDzyne
"Estamos encantados de dar la bienvenida a Conchita a la familia ByDzyne. Es una de las mejores, si no la mejor, del sector en la actualidad, y estamos encantados con todo lo que aporta a esta empresa.

Ella elevará todos nuestros estándares, y estamos seguros de que tendrá un impacto muy positivo en el mercado latinoamericano. Eres una joya completa Conchita, y estamos deseando verte prosperar y hacer cosas imposibles". 
Gustavo Salinas, Corona de Ecuador
"Estoy súper impresionado de que una dama con tal trayectoria de éxito, experiencia, tremendos resultados y premios, y un historial sobresaliente haya elegido formar parte de la familia ByDzyne. La Sra. Conchita es la incorporación perfecta para que nuestra empresa siga ascendiendo a la cima de nuestra profesión". La Sra.

Conchita Vargas es un icono de la industria y estoy seguro de que contribuirá enormemente a nuestra expansión e impulso en 2022. Estoy agradecido, orgulloso y emocionado de darle la bienvenida a nuestra familia ByDzyne".
Christian Nuñez, Corona de Perú
"He seguido a la señora Conchita en las redes sociales desde 2015. Desde ese momento, ella ha sido una inspiración para mí y todo mi equipo. Es una leyenda viva y la oportunidad de tenerla en ByDzyne nos genera una gran ilusión.

Su experiencia y orientación serán de gran beneficio para todos nosotros. Es la reina del network marketing en el mundo hispanohablante. Esta es una razón más por la que ByDzyne está creando una reputación influyente en esta industria".
Conchita coincide con el equipo fundador de ByDzyne y con algunos de los líderes más destacados de la empresa y reconoce el potencial ilimitado que existe.
"Los ejecutivos de ByDzyne, Nat y Chanida Puranaputra, Chad y Nattida Chong, Sophia Wong y Dave Phelps, son nombres del sector que son sinónimo de crecimiento, ética y liderazgo; estoy encantada de trabajar con cada uno de ellos.

Con su creación de esta oportunidad de clase mundial, su visión inspiradora de tratar de cultivar el mayor número de millonarios, y su objetivo único de convertirse en la organización más rápida en alcanzar un billón de dólares en ventas, sé por qué ByDzyne es el proyecto más atractivo en el emprendimiento digital y la creación de redes", expresó Conchita.
La Asesora Estratégica está programando actualmente una gira por Latinoamérica, donde pretende colaborar con algunos de los líderes más reconocidos de la región, y comenzar a construir los cimientos que serán el marco para que nuevos y experimentados líderes encuentren su hogar a largo plazo en ByDzyne.
Su inmaculada trayectoria atestigua que, independientemente del rango o la experiencia, esos líderes pronto reconocerán que sólo es cuestión de tiempo que sus sueños imposibles se hagan realidad. Y para Conchita, saber que lo que hace es bueno para alguien, hace que todo valga la pena.
"El mayor éxito para mí es mi camino con Dios y el hecho de saber que Él me ha guiado para cambiar vidas, servir a los demás y dejar un legado duradero en el mundo", dijo Conchita.
Para estar al día sobre Conchita y su nueva plataforma, no dudes en seguirla y contactar con ella a través de sus redes sociales o en su página web oficial www.conchitavargaslugo.com.