Celebrate National Entrepreneurship Month With Neora's 3Gs To Success
November 2, 2021
By Team Business For Home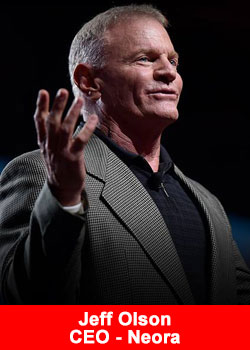 The decision to stop answering to a boss and become one yourself  can be intimidating, but according to  research, not only do people who work for themselves claim to be happy with their decision to do so, but they also experience greater life satisfaction and overall happiness.
Neora would not be the global wellness company that it is today without entrepreneurs taking a chance on themselves and blazing new trails.
With a solid vision and belief in themselves that they can indeed thrive, entrepreneurs not only have the power to change their own world, but quite possibly also the world around them.
In celebration of National Entrepreneurship Month in November, Neora recognizes the hard work and ingenuity that entrepreneurs bring to the table, keeping the economy healthy and strong. Here are Neora's 3 Gs for any entrepreneur to help forge an easier path to success:
Get There with Goals
You cannot achieve success without first setting a goal. Goalsetting is critical to any business—all it takes is a plan of action and a desire to put that plan into motion.
If your behavior, emotions and actions are  in alignment with your goals, you will find success. According to a study conducted by the Harvard Business School, most people do not have a clear vision of their goals.
Those who can articulate their goals or have them written down are 10 times more likely to be successful than those who do not. If you want to obtain the life you've always wanted, set a goal, write it down, and do everything in your power, every day, to make it happen.
Grit Leads to Greatness
Grit is an often undervalued and underappreciated trait, yet it is necessary for any aspiring entrepreneur.
Many entrepreneurs often encounter several  setbacks while getting their business ideas off the ground; those who choose to find a way to overcome  those setbacks develop the strength to weather all future adversities.
Angela Duckworth, Ph.D., a leading researcher in the science of grit, says that those who succeed are not necessarily the most talented, but they are the ones who never give up, and each time they bounce back and pounce forward, they draw closer to their goals. While failure can sometimes seem like game over, true entrepreneurs see it as another opportunity to succeed; this is the true greatness of grit.
Gratitude is Good
Gratitude is not just soup for the soul, but is also a great business tool. Some of the most successful entrepreneurs on the planet practice gratitude daily.
Having a regular gratitude practice puts you in a thrive mindset by making  you more optimistic and more motivated to achieve your goals.
Gratitude practice is associated with a stronger emotional and physical well-being: happier people miss less work, have fewer doctor visits, perform better at tasks and are more productive than their less happy counterparts.
Practicing gratitude is crucial for entrepreneurial success, easy to do, and costs nothing: each night before you go to bed, write down three things that you are grateful for that day, and before long,  you will see how your mindset shifts and how you begin to automatically look for the good in the world, bringing you that much closer to success.
The Neora Factor
At Neora we believe in and encourage an entrepreneurial spirit. If you believe in yourself and force yourself outside of your comfort zone, you will begin to live  life on your own terms.
Whether it's extra money for a family trip to a dreamy destination, saving up for tuition for your child's first-choice college, or a complete career change, Neora's business opportunities gives entrepreneurs the tools they need to succeed with very little investment. Neora's mission to make people better lets you take your life to the next level by letting your entrepreneurial spirit soar.
About Neora
Neora is a global relationship marketing company with age-fighting products crafted from cutting-edge research and science.
Founded in 2011, Neora has shattered industry sales records while developing a strong customer base in North America, Latin America, Europe and the Asia-Pacific. Neora is committed to providing an excellent product line based in real science. For more information, please visit neora.com.
Recommended Distributors Neora