Crowd1: Successful Business Is Created Through Accuracy
November 4, 2021
By Team Business For Home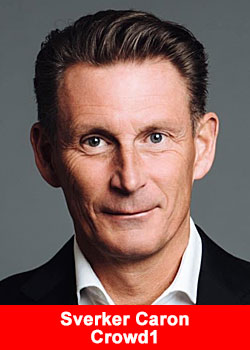 Sverker Caron, Head of Product Development explains:
Crowd1 has a plan. An extremely long-term plan to be able to meet the crowds high demands.

We are growing in step with the task, but we will never develop too fast. Crowd1 will revolutionize the market and then accuracy is required,
Mindoe, Miggster and LifeTRNDS are some of the products and services on which Crowd1 builds its platform. The pursuit of development is an ongoing process, and it never stops. Today, the company has tied many millions of people worldwide in its crowd and the interest in what the future holds looks like is enormous.
There were probably those who doubted when our founder Jonas Werner said that Crowd1 can become the world's largest company. Let me put it this way; I do not hear as many doubters today,
says Sverker Caron.
In his role as Head of Product Development, he is a key part of the hub. Caron realizes the importance of filling the portfolio to attract new members and retain existing ones. Development is a must, but it must be allowed to take the necessary time.
Which partner criteria are most important for Crowd1?
Long-term collaboration, I would like to say, is most important of all. It is a process to start a collaboration with a new partner, from agreement and contract to appropriate marketing and to integrate each other's systems.
This is not done for an individual campaign but for a long-term collaboration. Flexibility is also important. When you launch a service or product in a Crowd with many millions affiliates, it is impossible for you to know the impact. Therefore, one must be able to handle different scenarios.
What do you think is most important in connection with a launch and presentation of partners?
A launch is like a musical symphony. It is incredibly important that everything is done with the right timing. Everything from a teaser that creates curiosity to a bombastic launch event. Our Partners have the most important role, of course.
We do not launch services for a partner, we are the tool, channel and media to use, and the launch takes place together with the partner. Crowd1 has also created a successful way to present everything from promotions to new partners and its video.
We have invested heavily in video production and have recruited the best in the industry to create beautiful, informative, and interesting videos.
What trends do you think will dominate the market in the future?
For a few years to come, I think the focus will be on services and products in crypto and blockchain. Lots of interesting new products are created there. Planet IX is just the first successful venture.
We are looking at several other products that had all worked well with Crowd1 and which are in blockchains. Until now, Bitcoin and other digital currencies have been synonymous with blockchain technology, but now blockchain games are making great strides.
But also, everyday services in finance, entertainment, education and more. Education that has been the basis since Crowd1 was launched will also grow as a segment. The development is going so fast now in many different areas. Our affiliates and their networks will all need new knowledge on an ongoing basis.
Crowd1 largely builds its success on social platforms. In what way have you been affected by the Corona Pandemic?
When the pandemic came like a slap in the face, we thought for a short time that we would lose the momentum we had just built up. Then when we could quickly redirect to digital online events, it was the other way around. We went from good pace to hypergrowth.
After a year, however, we realized that you cannot replace physical meetings. You build comments in a different way when you meet other people. Despite the success of digital events, we realized we had to meet.
Both meetings with the crowd and meetings with all consultants and employees around the world. Our newly built office in Dubai has been the solution to this.

After the inauguration a few weeks ago, we have a large number of meetings where every day and people from all over the world can meet the company and meet their teams physically again.
Success is not just about big numbers. Crowd1 will most likely in the future reach the 100 million affiliates they have set as a goal, but just as important is that all these affiliates have the right commitment, that they get the right training and information and new products to work with.
One gives the other and when everything is in place, there is no limit on how many affiliates we can handle,
says Sverker Caron.
About Crowd1
Crowd1 is an established online social community and marketing company with its office registered in Dubai, UAE, with a unique and empowering vision to unleash the opportunities provided by global marketing.
At Crowd1 we are proud to be democratizing access to the next revolution in the digital space, online crowd marketing. With an extensive and swiftly expanding community of passionate and highly motivated entrepreneurs, we aim to make Crowd1 the pre-eminent name in online marketing. For more information, please visit www.crowd1.com