LifeVantage First Fiscal Quarter Revenue $53.2 Million
November 6, 2021
By Team Business For Home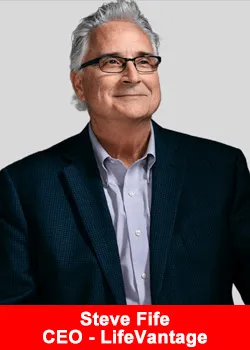 LifeVantage Corporation (Nasdaq: LFVN) today reported financial results for its first fiscal quarter ended September 30, 2021.
First Quarter Fiscal 2022 Summary*:
Revenue of $53.2 million, a decrease of 2.9% from the prior year period and down 2.8% sequentially;
Total active accounts declined 4.7% to 164,000 as growth of 8.9% in Asia/Pacific & Europe was more than offset by declines of 9.4% in the Americas. On a sequential basis, total active accounts were down 3.5%;
Earnings per diluted share were $0.25, up 47.1%;
Adjusted earnings per diluted share were $0.23, down 8.0%;
Adjusted EBITDA of $5.8 million, a decrease of 13.7%;
Repurchased approximately 0.5 million shares; and
Strong balance sheet with $19.9 million of cash and no debt.
* All comparisons are on a year over year basis and compare the first quarter of fiscal 2022 to the first quarter of fiscal 2021, unless otherwise noted.
"We continue to make progress on our initiatives around leveraging the strength of our core products and unique business model,"
said Steve Fife, Chief Executive Officer of LifeVantage.
"Momentum across our distributors is building and we saw an acceleration in activity in recent weeks, coming out of our annual convention which had over 1,500 people attend in person and we estimate over 10,000 people participated virtually.

Development of digital tools and resources remains a key area of focus, which should fuel future account growth while also driving productivity gains for distributors.

First quarter results were largely in line with our expectations and our ability to deliver high rates of profitability despite the persistence of top-line headwinds stemming from limited in-person activity is a testament to the Company's strong financial model.

Accordingly, LifeVantage remains well positioned for significant long-term growth as consumers globally continue to seek high-quality, proven solutions for optimizing their health and wellness."
About LifeVantage Corporation
LifeVantage Corporation (Nasdaq: LFVN) is a pioneer in nutrigenomics, the study of how nutrition and naturally occurring compounds affect human genes to support good health. The Company engages in the identification, research, development, formulation and sale of advanced nutrigenomic activators, dietary supplements, nootropics, pre- and pro-biotics, weight management, skin and hair care, bath & body, and targeted relief products.
The Company's line of scientifically-validated dietary supplements includes its flagship Protandim® family of products, LifeVantage® Omega+, ProBio, and Daily Wellness dietary supplements, TrueScience® is the Company's line of skin, hair, bath & body, and targeted relief products.
The Company also markets and sells Petandim®, its companion pet supplement formulated to combat oxidative stress in dogs, Axio® its nootropic energy drink mixes, and PhysIQ™, its smart weight management system. LifeVantage was founded in 2003 and is headquartered in Lehi, Utah. For more information, visit www.lifevantage.com.
Recommended Distributors LifeVantage