Power-Couple Danielle & Tony Costantino Plant Their Flag At Velovita
November 23, 2021
By Team Business For Home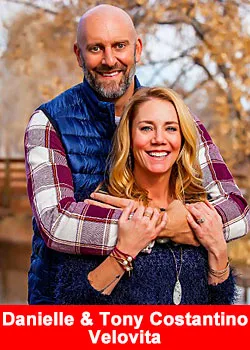 Danielle Costantino started her journey with direct sales in 2010 after 10 years in medical sales. With Tony's guidance, she was the first distributor to hit the top of the compensation plan.
In 2014, the couple moved to a health & wellness company where they became top leaders, reaching 7-figures in their third year. Achieving the Millionaire Club after three short years in their previous company was a life changing accomplishment that Danielle and Tony are excited about and proud of.
What keeps them going? Says Danielle,
"We thrive on helping others see and understand their true potential. Whether it be through our products or the business, we love helping others look and feel their best, as well as achieve financial freedom so they can enjoy life to the fullest."
With so many companies in the MLM space, this power duo chose Velovita to call home and shared,
"The simplicity and instant impact of the products, the numerology and branding, the ownership and past successes, as well as their mission, leadership, and overall culture were all impactful reasons we wanted to build here."
Velovita has had explosive growth in less than two years from launching. Now as a global leader in the biohacking arena, leaders can enjoy an international business and customer base. Danielle and Tony shared,
"If you want to grow a sustainable business in our industry that will stand the test of time, it must be global."
Founder & CEO, Kosta Gara added,
"Leaders in our profession are looking for a company that has it all. We love the success stories from Members who understand what it takes and even more, choose to trust us with their journey.

With every single piece in place from enrollment to fulfillment, Velovita is committed to doing the heavy lifting for Members and Customers. We're honored to have leaders like Danielle and Tony aboard who share more than a decade of industry experience and chose Velovita as the platform for their next level of success."
As for fellow-distributors, what would these top leaders share for those looking to launch a business?
"We offer a product line that cannot be found anywhere else, which is key to creating massive success long-term. With brain and mental health being in the forefront right now, it's imperative we take all measures to protect it to flourish as humans.

It's also critical when locking arms in business, to do so with those who have created success on both sides of the table (as a distributor and business owner) and who can help pave the way for others working to do the same,"
explains Tony.
Reflecting on their successful partnership, Danielle added,
"perseverance is the ticket to success. Regardless of what type of business a person chooses to build, it takes time. There's no such thing as an overnight success. It takes hard work, mental toughness, and teamwork to accomplish true greatness."
About VELOVITA
Founded on 90+ years of operational and field success, VELOVITA is rapidly becoming a global leader of innovation in the field of biohacking, social selling, community expansion and support for the new world entrepreneur. Their mission is to provide an ecosystem of inspiration, education, and life enrichment. VELOVITA has a singular focus on the individual to increase their daily performance both mentally and physically.
For more information on VELOVITA, please visit Velovita.com or Velovita's Facebook page. You may also contact us at [email protected]. To join the new movement, click here for the Velovita Member Rewards. We know you'll #LOVIT!
Recommended Distributors Velovita